Education Diplomacy Will Help Us Achieve Quality Early Childhood Care and Education for All Children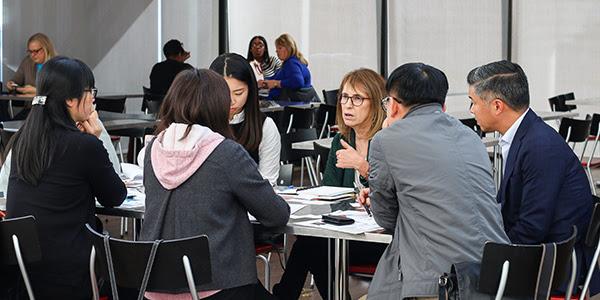 Early childhood educators use education diplomacy to advocate on important early childhood care and education (ECCE) issues, build consensus, and negotiate agreements among diverse stakeholders, like parents, teachers, school leaders, and students. They can also use these education diplomacy practices, processes, and skills to advance ECCE at national and global levels.   
For a long time, ECCE has been a neglected aspect of the global Education for All agenda, but support for ensuring access to quality ECCE globally began to grow in the early 2000s. By 2015, the concerted effort of a coalition of ECCE organizations got a dedicated ECCE target in the United Nations' Sustainable Development Goal (SDG) for Education: "By 2030, ensure that all girls and boys have access to quality early childhood development, care and pre-primary education so that they are ready for primary education." And in 2016, UNICEF and the World Bank announced a new global alliance on early childhood development.
However, a recent Theirworld report shows that less than 1% of all overseas development aid for children under age 5 is directed toward ECCE. While the campaign to get an SDG target for ECCE was successful, education diplomacy is needed to maintain this momentum and turn it into action that increases the funding, resources, access, and quality of ECCE globally.
"Education diplomacy" uses skills of diplomacy to build bridges that advance education by transforming education systems, policies, agendas, or education practice. It combines the skills of conventional diplomacy with the skills of education leadership and advocacy: reflection, active listening, intercultural communication, knowledge sharing, negotiation, networking, consensus building, collaborative leadership, innovation, systems, and futures thinking to help practitioners bridge divides in education, connect local needs to global goals, respond to education challenges, and build relationships and approaches that positively influence the direction of education. Education diplomacy takes the long view, building on short term advocacy while focusing on long term relationships.
From an education diplomacy perspective, quality ECCE involves understanding and building upon the local context and connecting local initiatives to national, regional, and international networks. It also includes influencing policy at all levels and supporting the use of domestic and international resources toward culturally relevant and inclusive ECCE programming that reaches marginalized communities and groups.
Meenakshi Dahal, a faculty member at Kathmandu University School of Education, has practiced education diplomacy in her ECCE work with many non-governmental organizations in Nepal while engaging local and national government authorities and international organizations to raise the prominence of ECCE in policymaking. She uses both her relationships with local organizations and her academic position to strengthen her diplomacy on ECCE issues. "People who did not listen to me when I was with an NGO slowly started to listen to my research-based facts," she says on the EdDip blog. This engagement led to UNICEF inviting her to write a five-year ECCE strategy adopted by the government; it also resulted in the amendment of Nepal's legislation to include ECCE in its education structure.
At the global level, the Global Partnership for Education (GPE) has begun an education diplomacy initiative called Better Early Learning and Development at Scale (BELDS) to help fill the knowledge gap that prevents bringing quality ECCE programs to scale. Education diplomacy practices such as international knowledge sharing, networking, and negotiation through BELDS will result in improved practice and increased funding for the scale-up of quality ECCE programs globally.
Teachers, administrators, school leaders, parent groups, NGOs, business, private philanthropists, government authorities, regional networks, and international organizations can all use education diplomacy to advance quality and inclusive ECCE locally and globally. Through education diplomacy, we can all work together to effectively ensure our youngest learners all have access to quality, culturally relevant ECCE.
 
---
NAEYC Global Engagement


To better serve the world's young children and their teachers, NAEYC expanded its role in early childhood development globally. NAEYC's Global Engagement department works with governments and other large-scale systems to create guidelines to support early learning, as well as to support early childhood professionals throughout the world. The Global Engagement Department adapts NAEYC's resources, content, and expertise to offer culturally appropriate packages that support high-quality early learning.
Join us in Washington, DC, November 14–17!


If you have an interest in early education on the international stage, we hope you will attend NAEYC's 2018 Annual Conference in DC and take full advantage of all our conference has to offer. This year we feature even more sessions with a global perspective on ECE and the profession. The full list of Global Perspectives track sessions can be found on our itinerary planner, along with our Good Start and Grandes Comienzos language tracks.
Learn more at https://www.naeyc.org/our-work/global, and select NAEYC Global Engagement at https://www.naeyc.org/newsletter-signup for email updates.