DAP: Teaching to Enhance Each Child's Development and Learning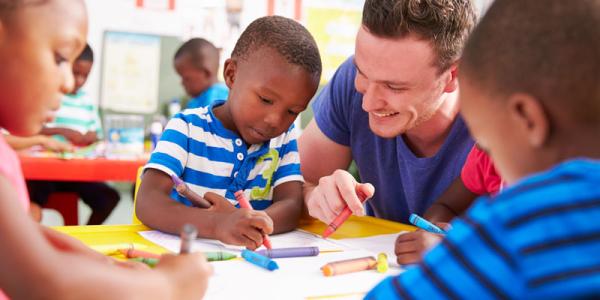 You are here
Developmentally appropriate teaching practices encompass a wide range of skills and strategies that are adapted to the age, development, individual characteristics, and the family and social and cultural contexts of each child served. Grounded in the caring relationships that educators nurture with each child and family as well as among all children and families (see guideline 1, "Creating a caring community of learners"), these teaching practices are designed to foster development and learning for each child across all domains and subject areas. Teaching practices build on each child's multiple assets and actively counter various forms of bias. Through their intentional teaching, educators blend opportunities for each child to exercise choice and agency within the context of a planned environment constructed to support specific learning experiences and meaningful goals. Educators recognize that children are active constructors of their own understanding of the world around them; they understand that children benefit from initiating and regulating their own learning activities and from interacting with peers.
Recognizing play as critical for children to experience joy and wonder, early childhood educators incorporate frequent opportunities for play in their teaching strategies. They plan learning environments that provide a mix of self-directed play, guided play, and direct instruction. Educators maximize opportunities for children to choose the materials, playmates, topics, and approaches they use throughout the day for all children, birth through age 8. Educators support and extend children's play experiences by providing materials and resources based on careful observation of children's play choices. Adult-guided activities provide for children's active agency as educators offer specific guidance and support to scaffold and extend children's interest, engagement, and learning.
Direct instruction—for example, providing children with relevant academic vocabulary, pointing out relationships, helping children recognize specific phenomena, or suggesting an alternative perspective—is an important tool for supporting children's learning. Its effectiveness is determined by the degree to which it extends children's interests and learning in meaningful ways and educators' sensitivity to changes in children's interest. Individually or in small or large groups, across all activities—self-directed play, guided play, direct instruction, and routines—the teacher is responsible for ensuring that each child's overall experiences are stimulating, engaging, and developmentally, linguistically, and culturally responsive across all domains of development and learning. Promoting many opportunities for agency for each child is essential to fulfilling this responsibility.
The following descriptions of educators' actions illustrate teaching practices that are developmentally appropriate for young children from birth through the primary grades.
A. Educators demonstrate and model their commitment to a caring learning community through their actions, attitudes, and curiosity. They recognize that through their actions, they are influencing children's lifelong dispositions, confidence, and approaches to learning.
B. Educators use their knowledge of each child and family to make learning experiences meaningful, accessible, and responsive to each and every child. Building on the relationships they nurture with each child and family and between children (see also guideline 1, "Creating a caring community of learners"), educators design learning activities that reflect the lives and cultures of each child.
Educators incorporate and integrate a wide variety of experiences, materials, equipment, and teaching strategies to accommodate the range of children's individual differences in development, languages, skills and abilities, prior experiences, needs, and interests.
Educators, with the support of families, bring each child's home culture(s) and language(s) into the shared culture of the learning community. They model recognition and valuing of the unique contributions of the home cultures and languages so that these contributions can be recognized and valued by the other members of the learning community. They strategically use the child's home or family language and cultural ways of learning to enhance each child's communication, comprehension, self-expression, and learning. Educators continually strive to support and sustain each child's connection with their family, languages, and cultures.
Educators provide all children opportunities to participate in all activities and encourage children to be inclusive in their behaviors and interactions with peers.
Educators are prepared to individualize their teaching strategies to meet the specific needs of individual children, including children with disabilities and children whose learning is advanced, by building upon their interests, knowledge, and skills. Educators use all the strategies identified here and consult with appropriate specialists and the child's family; they see that each child gets the adaptations and specialized services needed for full inclusion as a member of the community and that no child is penalized for their ability status.
C. Educators effectively implement a comprehensive curriculum so that each child attains individualized goals across all domains (physical, social, emotional, cognitive, linguistic, and general learning competencies) and across all subject areas (language and literacy, including second language acquisition, mathematics, social studies, science, art, music, physical education, and health). Educators follow Universal Design for Learning principles by proactively providing multiple means of engagement, multiple means of representation, and multiple means of action and expression.70 Educators design experiences that celebrate the diversity in the experiences and social identities of each group of children and counter the biases in society. They build upon the children's combined funds of knowledge to foster each child's learning and understanding. Educators design activities that follow the predictable sequences in which children acquire specific concepts, skills, and abilities and by building on prior experiences and understandings. (Also see guideline 5, "Understanding and using content areas to plan and implement an engaging curriculum designed to meet goals that are important and meaningful for children, families, and the community in the present as well as the future.")
D. Educators plan the environment, schedule, and daily activities to promote each child's development and learning.
Educators arrange firsthand, meaningful experiences that are cognitively and creatively stimulating, invite exploration and investigation, and engage children's active, sustained involvement. They do this by providing a rich variety of materials, challenges, and ideas that are worthy of children's attention and that reflect the funds of knowledge each child brings to the setting. Materials are periodically rotated and revisited to provide children with opportunities to reflect and re-engage with the learning experiences.
Educators consistently present children with opportunities to make meaningful choices. Children are encouraged to shape specific learning activities and to identify projects that can be used to extend their learning. Children are regularly provided with opportunities for child-choice activity periods—not simply as a reward for completing other work. Educators assist and guide children who are not yet able to enjoy and make good use of such periods.
Educators organize the daily and weekly schedules to provide children with extended blocks of time in which to engage in sustained investigation, exploration, interaction, and play. Children are encouraged to freely interact with peers, and collaborative learning opportunities with peers are frequently used. Adults offer questions to stimulate children's thinking, introduce related vocabulary, and provide specific suggestions to scaffold children's thinking. As much as possible, educators use multiple languages to support bilingual and multilingual children and also use nonverbal means of communication such as images and gestures.
Educators routinely provide experiences, materials, and interactions to enable children to engage in play. Play allows children to stretch their boundaries to the fullest in their imagination, language, interaction, and self-regulation, as well as to practice their newly acquired skills. Play also provides an important window for educators to observe children's skills and understandings.
Educators create language-rich environments that focus on the diversity and complexity of language in children's communities. Given the importance of vocabulary for conceptual development and as the key building blocks for academic subject areas, this is especially crucial. Educators affirm children's use of home dialects, vernaculars, and language as strengths as they also support the development of academic English.
E. Educators possess and build on an extensive repertoire of skills and teaching strategies. They know how and when to choose among them to effectively promote each child's development and learning at that moment. Such skills include the ability to adapt curriculum, activities, and materials to ensure full participation of all children. These strategies include but are not limited to acknowledging, encouraging, giving specific feedback, modeling, demonstrating, adding challenge, giving cues or other assistance, providing information, and giving directions.
To help children develop agency, educators encourage them to choose and plan their own learning activities. Self-directed learning activities are important for all young children, including those in K–3 classrooms. Self-directed activities can engage children in meaningful learning that is relevant to all curriculum and applicable learning standards.
To stimulate children's thinking and extend their learning, educators pose problems, ask questions, and make comments and suggestions.
To extend the range of children's interests and the scope of their thoughts, educators present novel experiences and introduce stimulating ideas, problems, experiences, or hypotheses.
To adjust the complexity and challenge of activities to suit children's skills and knowledge, educators increase the challenge as children gain competence and understanding or reduce the complexity for those who struggle.
To strengthen children's sense of competence and confidence as learners, motivation to persist, and willingness to take risks, educators provide experiences that build on a child's funds of knowledge, are culturally and linguistically responsive, and are designed for each child to be challenged and genuinely successful.
To enhance children's conceptual understanding, early childhood educators use various strategies, including conversation and documentation, which encourage children to reflect on and revisit their experiences in the moment and over time.
To encourage and foster children's development and learning, educators avoid generic praise ("Good job!") and instead give specific feedback ("You got the same number when you counted the beans again!"). They use the home or family languages, images, or other forms of non-verbal communication to be sure the child understands the feedback. With frequent, timely, specific feedback, educators help children evaluate their own learning.
Educators focus on what children can do rather than what they can't or don't do. For example, a child who responds to a question asked in academic English by speaking in their home dialect is recognized for their receptive language. Similarly, invented spellings or other "errors" in children's thinking or language are analyzed for what they reveal of children's current understanding.
F. Educators know how and when to scaffold children's learning. Based on their ongoing interactions and knowledge of each child, educators provide just enough assistance to enable each child to perform at a skill level just beyond what the child can do on their own, then gradually reduce the support as the child begins to master the skill, setting the stage for the next challenge.
Educators recognize and respond to the reality that in any group, children's skills will vary and they will need different levels of support. Educators also know that any one child's level of skill and need for support will vary over time and in different circumstances.
Scaffolding can take a variety of forms, such as giving the child a hint, providing a cue, modeling the skill, or adapting the materials and activities. It can be provided in a variety of contexts, not only in planned learning experiences but also in free play, daily routines, and outdoor activities.
Peers can be effective providers of scaffolding in addition to educators. Peer learning can be an effective mechanism to provide individual support and assistance across all areas of development and learning. Peer learning can be especially useful for children who are bilingual or multilingual.
G. Educators know how and when to strategically use the various learning formats and contexts.
Educators understand that each major learning format or context (for example, large group, small group, learning center, routine) has its own characteristics, functions, and value. They consider the characteristics of the learners in choosing the most appropriate format, such as limiting the use of large groups with very young children or of groups led in a language not understood by all the children. Educators recognize that they need to balance activities that require attentive behavior with time for more active movement. Circle time and large group instruction periods are limited in length to match age-appropriate attention span limits. Breaks for self-directed and active play are provided throughout the day. Flexibility of participation is provided to all children to accommodate individual needs.
Educators think carefully about which learning format is best for helping children achieve a desired goal, given the children's ages, abilities, experiences, temperaments, and other characteristics. Especially in the case of large group activities, educators change formats when attention wanes. In K–3 classrooms, educators ensure that individual seatwork is used only when it is the most effective format for meeting the learning objective. They encourage collaborative learning through peer interaction and provide frequent opportunities for children to support each other's learning in pairs and small groups. Educators strive to provide opportunities for physical activity throughout the day, including the use of learning activities that incorporate movement.
Educators minimize time in transitions and waiting for children to line up or be quiet. Educators who document how children spend their time are often surprised at how much time is spent in transitions, often in ways that do little to support children's development and learning.71 Reducing the time and amount of full-group activities, providing children with advance notice of the transition, and incorporating songs, pretend play, and/or movement into the transition can be useful strategies. Educators strive to reduce the need for transitions through flexible schedules, strategic use of staff and volunteers, and helping children take responsibility for their own learning.
H. Educators differentiate instructional approaches to match each child's interests, knowledge, and skills. Children who need additional support receive extended, enriched, and intensive learning experiences, always building on the child's current interests, strengths, and cultural ways of knowing.
Educators take care to provide each child with opportunities to be successful and to engage in joyful learning. They work to avoid children having frustrating or discouraging experiences that lead to a negative association with schooling.
Regardless of their need for additional support, all children are provided agency to the greatest extent possible. Educators are highly intentional in use of time, and they focus on key skills and abilities through highly engaging, play-based experiences to build on the assets of children and their families.
Recognizing the self-regulatory, linguistic, cognitive, and social benefits that play and active self-direction affords, educators do not reduce or eliminate play opportunities, recess, or any other important community and inclusive activities for children who need additional support to meet school readiness/grade level or behavioral expectations.
---