Appendix C: Acknowledgements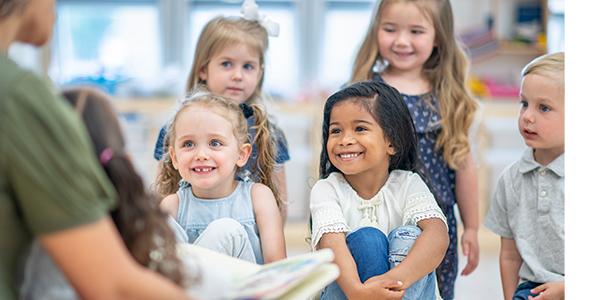 You are here
Informed by and reflective of the needs and strengths expressed by early childhood educators themselves, the leaders listed on this page contributed invaluable time, expertise, and skill to support the development of the Developmentally Appropriate Practice position statement. They were also responsible for the development of the Advancing Equity in Early Childhood Education position statement that was published in September 2019. The staff and Governing Board at NAEYC are deeply grateful for their extraordinary contributions and leadership. NAEYC also thanks the many NAEYC members and others who provided input and feedback as this statement was developed.
Iliana Alanís,* University of Texas San Antonio
Chris Amirault, Tulsa Educare, Inc. (OK)
Amy Blessing, Malpass Corner Elementary School (NC)
Garnett S. Booker III, Eagle Academy Public Charter School (DC)
Anthony Broughton,* Claflin University (SC)
Isauro M. Escamilla Calan,* Las Americas Early Education School (CA)
Dina C. Castro,* University of North Texas
Lillian Durán, University of Oregon
Linda M. Espinosa, University of Missouri
Kelly Hantak,* University of Missouri Kansas City
Elisa Huss-Hage,* Owens Community College (OH)
Iheoma U. Iruka, HighScope Educational Research Foundation (MI)
Tamara Johnson,* Malaika Early Learning Center (WI)
Sarah LeMoine, ZERO TO THREE (DC)
Megan Pamela Ruth Madison,* Center for Racial Justice in Education (NY)
Ben Mardell, Harvard University (MA)
Lauren E. Mueller, City of St. Charles School District (MO)
Krista Murphy,* Orange County Department of Education (CA)
Bridget Murray, Henderson Community College (KY)
Alissa Mwenelupembe,* Ball State University (IN)
Nichole Parks,* Leading for Children (AR)
Yohana Quiroz,* Felton Institute (CA)
Hakim Rashid, Howard University (DC)
Aisha Ray, Erikson Institute (IL)
Jeanne L. Reid, Teachers College, Columbia University (NY)
Shannon Riley-Ayers, The Nicholson Foundation (NJ)
Nicol Russell,* Teaching Strategies, LLC (AZ)
Christine M. Snyder, High Scope Educational Research Foundation (MI)
Jan Stevenson,* Georgia Dept. of Education/Division for Special Education
Crystal Swank, Truckee Meadows Community College (NV)
Ruby Takanishi, New America (NY)
Tarajean Yazzie-Mintz, First Light Education Project, LLC (CO)
Marlene Zepeda, California State University – Los Angeles
* Denotes current and former members of the Early Learning Systems Committee of the NAEYC Governing Board.
Senior Advisors to the DAP/Diversity and Equity Workgroup:

The workgroup and committee were primarily supported by NAEYC staff members Barbara Willer, Mary Harrill, Lauren Hogan, and Marica Cox Mitchell.