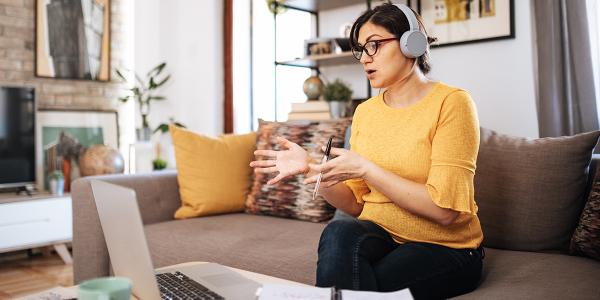 You are here
Dear colleagues,
COVID-19 continues to profoundly impact our lives, and the protests for racial justice have shined a much-needed light on 400 years of structural and systemic racism in our society. These systems of injustice begin at birth and make it essential that the United States embraces an early childhood education structure that is well financed and fully accessible—for children, for families, and for early childhood educators.
We know how crucial social and emotional well-being is to young children's development, but we all have questions about how teachers wearing masks and how digital distance learning (and the related isolation) are affecting our youngest learners.
Many children may also be experiencing trauma due to family members being out of work or who are ill. This is especially true for children of color, who are disproportionately impacted. In these difficult circumstances, early childhood educators provide more than guided play, safe spaces, and welcoming arms—you provide hope.
In addition to timely content in this issue, such as talking with children about big world issues; using children's books about race to encourage identity, agency, and voice; and supporting anxious children, NAEYC stands with you. NAEYC is here to support you with the professional development, state and local advocacy work, and community connections you need to be the best educator you can be for the children you serve. Visit NAEYC.org/equity to find NAEYC's position statement on advancing equity as well as a robust selection of helpful resources to help you address the issues of race and equity impacting your students' success.
Our new book, Trauma & Young Children: Teaching Strategies to Support and Empower, is an invaluable resource for teachers who need accurate information and practical guidance for helping children and families who have experienced trauma. You can find it at NAEYC.org/shop.
And the NAEYC Annual Conference is on! It may look a little different this year, but we are confident you'll find the sessions and events to be engaging, informative, and fun. Learn more at NAEYC.org/conference.
As always, NAEYC members are the backbone of this association, and together we will emerge from the challenges of today more knowledgeable, agile, and stronger as a profession and as a community.
Onward!
Rhian Evans Allvin
Rhian Evans Allvin is the chief executive officer of NAEYC. She is responsible for guiding the strategic direction of the organization as well as overseeing daily operations. Before joining NAEYC, Evans Allvin was a guiding force in Arizona's early childhood movement for more than 15 years, including serving as CEO of Arizona's First Things First.