Haciendo Conexiones: Todos ustedes son valientes y esenciales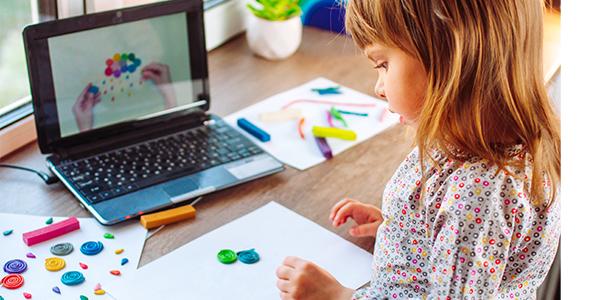 You are here
Rhian Evans Allvin
Nos encontramos ante el último mes de lo que ha sido el año más devastador para la educación infantil desde hace décadas, si no en toda nuestra historia. Mientras escribo la presente columna, la elección no ha ocurrido todavía y seguimos luchando por conseguir $50 mil millones del gobierno federal para respaldar el cuidado infantil mientras nuestro campo se reconstruye después de COVID-19. Independientemente del resultado en ambos casos, seguiremos enfrentándonos a una gran incertidumbre. ¿Cómo será el ambiente político en 2021, y seguirá siendo el cuidado infantil una prioridad de financiación pública? ¿Nos dará la presente crisis el impulso que nos hace falta para hacer cambios fundamentales en la estructura del sistema? ¿Habrá cambios para las familias en su acceso al cuidado de niños como resultado de esta experiencia? ¿Qué será fundamentalmente alterado y qué será una desviación temporal en la misión en proveer la educación infantil de alta calidad para todos los niños?
Todo lo anterior son cuestiones que tendremos que navegar juntos. Pero hay una cosa que yo sé, por cierto: NAEYC los ve a ustedes y los escuchamos. Estamos comprometidos con ustedes para continuar dedicando cada día a trabajar por narrar sus historias en la lucha por los fondos públicos aumentados. Seguiremos hospedando HELLO, la plataforma para las comunidades en línea de NAEYC, donde ustedes se pueden conectar y pueden aprender unos de otros. Nos mantendremos firmes en nuestro compromiso por traerles información actualizada y relevante. Les prometemos continuar analizando todo lo que hacemos desde una perspectiva de equidad e inclusión—tanto interiormente como una asociación profesional, como externamente en nuestra función de agente de cambio. En realidad, esto es lo que nos exige nuestra declaración de posición Promover la Equidad en la Educación Infantil.
También deseo expresarles mi gratitud a cada uno de ustedes. Durante lo que ha sido un año increíblemente desafiante para NAEYC, he sentido una admiración y un respeto constantes para cada uno de ustedes que trabajan en el campo. Hemos escuchado muchísimas historias de valor y devastación durante el año.
Esas historias incluyen a los educadores infantiles que rápidamente viraron para proveer la instrucción en línea—trabajando para presentar reuniones de la clase y "búsquedas de tesoros" en Zoom con niños de 3 años, por ejemplo—y de los que han perdido sus empleos, viviendo del desempleo hasta que reciben la llamada que su centro ha reabierto. Hay educadores que no han dejado el aula ya que cuidan a los hijos de los trabajadores en la primera línea, los enfermeros, cajeros en supermercados y cuidadores de edificios que desde marzo han mantenido en marcha el funcionamiento de este país. Y hemos escuchado las historias de directores y dueños de programas que han gastado sus propios ahorros y cuentas de jubilación para mantener abierto su centro, y los que han cerrado sus puertas para siempre después de décadas de servicio a una comunidad.
Cada uno de ustedes se han hallado en una posición en que han tenido que tomar decisiones impactantes. Hemos observado mientras ustedes han centrado sus pensamientos y sus acciones en los niños y las familias a quienes sirven, por lo que mis colegas en los gobiernos locales y estatales han trabajado las 70 horas a la semana para presionar a sus gobernadores para que respondan. Han pedido que los formadores de políticas hicieran menos estrictos los requisitos de elegibilidad y que pagaran a los proveedores según sus costos fijos y sin tener en cuenta el número de niños matriculados. Han hecho los trámites inherentes de la burocracia para transmitirles urgentemente los fondos federales a los proveedores; y han rediseñado y construido sistemas de datos en plazos de semanas o meses (aunque típicamente esto lleva años). ¡Estamos de parte de ustedes!
Finalmente, hemos escuchado las historias de las familias que, en muchísimos casos, están luchando para llegar a fin de mes, para tomar decisiones sobre si la educación de sus hijos será en persona, en línea o en forma híbrida además de idear maneras de conservar sus empleos y cuidar de sus hijos. Les parece que no prestan la atención debida a ninguna de sus muchas prioridades, y llevan sobre sus espaldas el peso entero de estas demandas.
Les decimos a todos ustedes: son valientes. Son esenciales. Y no están solos.
Lea sobre los dedicados miembros de la Junta Directiva y el liderazgo de la NAEYC aquí. 
Rhian Evans Allvin
Rhian Evans Allvin is the chief executive officer of NAEYC. She is responsible for guiding the strategic direction of the organization as well as overseeing daily operations. Before joining NAEYC, Evans Allvin was a guiding force in Arizona's early childhood movement for more than 15 years, including serving as CEO of Arizona's First Things First.