The Reading Chair: Fall 2021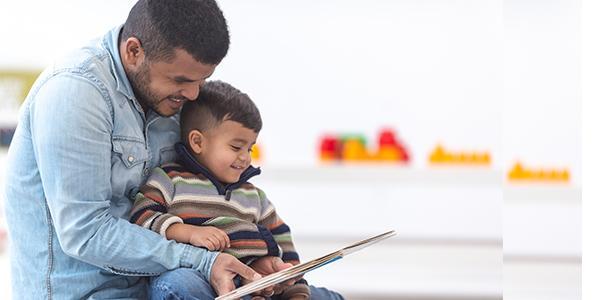 You are here
Isabel Baker, Miriam Baker Schiffer
Let's Play Monsters!

By Lucy Cousins. 2020.
Somerville, MA: Candlewick Press. 40 pp. Ages 18 months to 4.
Lucy Cousins, best known for her Maisy books, offers something big and bold that taps into children's primal urge for fright: a rollicking game of Monster. Inspired by a game that Cousins played with her own grandson, this is the story of a little boy who asks the people in his life to pretend to be monsters and give him a scare. His uncle, his cat, his grandma, and others are happy to oblige. "Hee, hee, hee! But you can't catch me!" he says each time. When it is his mother's turn, she doesn't give up so easily. She gobbles his toes and nibbles his nose—and tucks him safely into bed.
Children often like to rehearse bravery by inviting a scary (but still safe) situation and then facing it. The rhyme and animal and monster sounds are well-conceived, and the illustrations are wonderfully vibrant without feeling too busy. The endpapers show all the characters as themselves inside the front cover and as monsters inside the back cover. It is fun to see the line-ups, and children will love to compare the colors and patterns of the different monsters!
---
Dozens of Doughnuts

By Carrie Finison. Illus. by Brianne Farley. 2020.
New York: G.P. Putnam's Sons. 40 pp. Ages 3 to 6.
Preparing for hibernation is serious business for a bear—especially for LouAnn, who is busy whipping up a dozen doughnuts to fill her belly before she tucks in for the cold winter. But who is that knocking at the door? It's a friend, and any good host knows she must share her fresh-made treats. But her friends keep arriving, and LouAnn must keep cooking. She divides plate after plate of doughnuts, wondering if she will get any herself! Soon, her cupboards are as empty as her belly. Will she have to hibernate hungry? Thankfully, her friends won't let that happen.
This feel-good story of friendship layers social and emotional themes with math concepts, cooking, and even the science of hibernation (minus the doughnuts part!). Children may enjoy chanting along with the "Ding-Dong!" that signals yet another hungry guest. And once your school or program is back in person, you might need to serve doughnuts as a snack . . . after facilitating a math lesson with them, of course.
---
Goodnight, Veggies

By Diana Murray. Illus. by Zachariah OHora. 2020.
New York: Houghton Mifflin Harcourt. 40 pp. Ages 3 to 7.
After a hard day of growing, the vegetables in this urban rooftop garden need to tuck in at night and get their rest! This rhyming bedtime story uses inventive language to make the veggies seem sleepy: children will read about the cuddly cauliflowers and the tuckered-out tomatoes, the droopy pods of peas, the beets that are beat, and the corn covering their ears in order to sleep. Illustrator Zachariah OHora paints them with happy expressions, bright colors, and enough precision so that children can learn to recognize foods that may be new to them. Many illustrations show above- and below-ground scenes together, so readers can understand how plants grow up and down. A worm who is never mentioned in the text appears on each page, winding his way through the garden, past each veggie as they drift off to sleep, almost as if he is tucking them in. Worms are essential to a healthy garden bed, and this helpful friend endearingly puts himself to bed at the end of story, just like many children will be doing when the book ends.
---
Old Rock (is not boring)

By Deb Pilutti. 2020.
New York: G.P. Putnam's Sons. 40 pp. Ages 4 to 8.
A quality children's book works on more than one level, and this one deserves credit for being rich with social and emotional themes while also teaching geology and evolution, all from the perspective of a rock. Old Rock, as he is known, lives near Tall Pine, Spotted Beetle, and Hummingbird. Those three friends wonder how Old Rock's life could be anything but boring, stuck as he is in one spot on the ground—or so they thought. Old Rock regales them with his life story, from being flung from a volcano to living with the dinosaurs, to gliding through the ice age and then resting amongst the mastodons. It becomes clear that Old Rock's life has been anything but boring.
How fascinating to discover that real-life rocks have seen it all! Old Rock's friends learn not to make assumptions about the lives of others. Extension activities for this lovely story include painting a face on a rock and then writing a story about the rock's life. Children will be asking themselves, "Has my rock witnessed a historic event?"
---
The All-Together Quilt

By Lizzy Rockwell. 2020.
New York: Alfred A. Knofp. 40 pp. Ages 4 to 8 (and up!).
Quilting brings the community together in this story based on the real-life traditions of the Peace by Piece quilters, who meet regularly at the Senior Court Housing Complex in Norwalk, Connecticut. Crafters young and old pair up to choose, measure, and cut fabrics for quilt squares. Everyone works together to choose a pattern for arranging them. There are so many to pick from! As the characters work, readers will learn the names of numerous techniques and tools. Eventually, all efforts culminate in a quilted work of art.
Crafting—and quilting in particular—exposes children to math, shapes, and art. These concepts come through vividly in this book, where readers can pore over fabrics (the backmatter offers excellent information about the origin of different designs) and study common layout patterns (like the churn dash, flying geese, and shoo fly). The characters in the book are diverse in race, age, and gender. For extension activities, consider a virtual or in-person quilt collaboration in which children submit a square of art from home, and teachers can combine them (electronically or physically).
---
Forever Favorites

In each issue we feature a classic book to (re)introduce teachers to old favorites.
Ten, Nine, Eight
By Molly Bang. 2003 (1982).
New York: Greenwillow Books. 24 pp. Ages birth to 4.
Molly Bang's classic book is a genius blend of interesting math concepts and a tender bedtime story. While counting backwards from 10 to one with each turn of the page, readers follow alongside a little girl's bedtime routine with her father. There are the girl's 10 freshly bathed toes, her nine stuffed animals, the seven seashells hanging from her crib mobile, four sleepy eyes, and three loving kisses, among other items. Children will want to count up to each of the items they see on the page as well. Bang's choice to feature both a father figure and a Black family in the book—which is important today as educators curate inclusive libraries—was novel and noteworthy in 1982.
---
Copyright © 2021 by the National Association for the Education of Young Children. See Permissions and Reprints online at NAEYC.org/resources/permissions.
Isabel Baker
Isabel Baker, MAT, MLS, is the founding director of The Book Vine for Children, a national company dedicated to getting good books into the hands of preschool children and their teachers. Isabel has worked as a children's librarian and is currently a presenter on early literacy and book selection.
Miriam Baker Schiffer
Miriam Baker Schiffer, MFA, is a writer in Brooklyn, New York. She consults on book selections for The Book Vine, in McHenry, Illinois. Miriam's children's book, Stella Brings the Family, was published by Chronicle Books in 2015.