From Our President. Driven to Action: Addressing Two Issues of Social Justice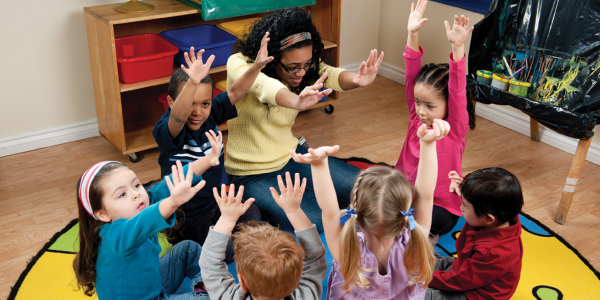 You are here
As an advocate for the field of early childhood education, I am driven by issues of social justice and a desire to take action to address them. My firm belief is that child care inequity is one of the most important social justice issues of my lifetime. This inequity takes many forms, especially for communities of color: the inability for every family to access high-quality early learning programs, the unaffordability of such programs, and the negative effects of lower quality early learning experiences for children and families.
A 2020 article from the Center for Primary Care at Harvard Medical School underscores how critical access to child care is for the economy—now and always. In fact, "it promotes employment stability, financial security, and opportunity for economic mobility." Yet we as a society have ignored the link between child care access and "well-known indicators of social, familial, financial, physical, and mental wellbeing—a miscalculation that, in the wake of the pandemic, will have long-lasting and multigenerational consequences."
My firm belief is that child care inequity is one of the most important social justice issues of my lifetime.
But reports, news stories, and our own professional experiences have shown these facts time and again. Quality early childhood education is still out of reach for most children and families, and early childhood educators—the backbone to delivering on the promise of quality early education—have been left behind. Despite the investment and all our system-building efforts over the past 20 years, early childhood educators, on average, earn $12 per hour, half of them qualify for government assistance, and only 15 percent have employer-sponsored health insurance.
As the world faced the largest public health pandemic in a generation, the economic fragility of early childhood education and the mismatch between its supply and demand were made abundantly clear. With an immediate 70 percent drop in enrollment in early learning programs at the onset, effects of the pandemic were quick and vast for the social, economic, physical, and mental well-being of so many. Hundreds of thousands of early childhood educators lost their jobs, administrators at smaller settings were putting payroll on their credit cards, and families were trying to work from home and be full-time caregivers. Those, like Head Start and other publicly funded settings, who remained open tried to pivot to online learning. But as NAEYC's former CEO Rhian Evans Allvin wrote over two years ago, "There's no such thing as online preschool." Families who needed supports were on their own trying to figure it all out.
As we continue to emerge from the pandemic, social justice inequities related to child care have not been resolved. We have lost many providers in some of the most underserved areas around the country: Child Care Aware of America found that 8,889 child care centers and 6,957 licensed family child care homes permanently shut down during the pandemic, prior to ARP funds being available.
While all of this seems grim, at the same time, our collective action to advocate for children and those who care for and educate them is needed now more than ever. I have never been prouder to be part of this field and to be NAEYC's Governing Board president. Our collective advocacy has been relentless. It has centered the voices of early childhood educators. We unequivocally asked for $50 billion in rescue and recovery money, and we got it. That investment temporarily stabilized the sector, but it did not fix the scarcity of resources that has always been the story of early childhood education. While Build Back Better as it was conceptualized did not come to fruition, we remain hopeful that both the financing in Build Back Better for child care and preschool and the policy fixes so desperately needed will remain in future legislation. We will continue to steadfastly advocate for these issues.
What we do for children outside of the learning environment is equally as important as what we do for children inside the learning environment.
Our advocacy calls attention to the need for accessible, affordable, high-quality early care and education, especially for families of color. Equally important for a young child's learning and development is what happens in these environments. Environments that support each and every learner and that provide rich opportunities for social and emotional development, language and literacy, mathematics, and more are indicators of quality.
Math, in particular, is a social justice issue on its own. Dr. Shanté Stuart McQueen, assistant professor of education at Portland State University, highlights the troubling gaps in who is in college preparatory mathematics courses—missing are students of color. McQueen shared with me that the roots stretch back to elementary and middle school curriculum and practices, those that are "extremely culturally marginalizing and [lack] representation of Students of Color as well as most other non-dominant groups." Each learner must see, hear, and experience that "their communities' current ways of being include mathematical thinking and sensemaking, and that they descended from peoples and societies that have rich mathematical practices." They must see, hear, and experience math in ways that expand rather than limit views and beliefs about gender and gender roles too.
That is why this issue of Young Children is filled with research-informed ideas for mathematics. Authors throughout the issue emphasize the importance of math learning for the early years and well beyond. Ample opportunities should be available to develop, as one set of authors write, "a mathematician identity in which all learners have access to math understanding and can express that understanding in empowering ways."
What we do for children outside of the learning environment, like advocating for compensation for early childhood educators and access for families, is equally as important as what we do for children inside the learning environment, like representing each and every child and family in our practices and curriculum. Too many children and families and too many early childhood educators face significant, continuous inequities, making high-quality teaching and learning beyond their reach. These social justice issues must be addressed. We will advocate and advance equity until they are, and your voices are essential to these efforts.
Natalie Vega O'Neil
Natalie Vega O'Neil is president of the National Association for the Education of Young Children.