Making Connections. Our Moonshot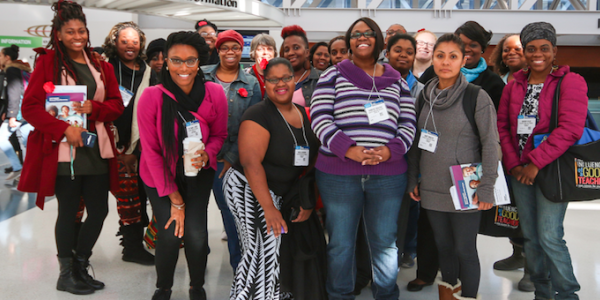 You are here
Rhian Evans Allvin
Last fall I participated in a meeting in Silicon Valley with venture capitalists/philanthropists, innovators, tech leaders, and early education policy leaders. We listened to more than 45 three-minute pitches from both nonprofit and for-profit ventures seeking partnerships and financing to bring their innovations in early childhood education to scale. The inventions ranged from new methods of child assessment to apps, technology solutions, and franchise models to enhance family child care. There were new developmental screening and early detection devices and literacy and education apps. Some of the projects struck me as potential game changers.
I was immersed in what I presume is the competitive culture and pace of Silicon Valley: three minutes to make your best pitch, sum up previous rounds of financing, inspire us with your best ideas, demonstrate the depth of your team's know-how, and explain how your project is going to change the world for young children and their families.
It was inspiring to be among so many sharp thinkers—innovators limited only by how big they could dream and how effectively they could bring their dreams to life. It was also a testament to how far our field has come. A number of presenters mentioned that early childhood education is a $40-billion+ industry ready to capture the attention and expertise of some of the country's largest, most aggressive capital investors.
Amidst the inspiration, I was also conflicted (in a healthy-yet-agitated, bend-my-mind kind of way):
What are the innovations in the last 50 years that have gotten us to where we are today?
Why haven't we made more progress?
Are we focusing on the best levers to change outcomes?
Can we really do any of this in an environment of scarcity without serious additional public investments?
Are market-driven innovations likely to reduce educational inequities? If not, what role should public investment and oversight play to increase equity?
For those of us focused on policy—are there ways to innovate that we haven't yet considered?
How do we bring these innovators to the policy arena?
Here is the reality. Yes, we need innovation in the early education marketplace of ideas, products, and services. We also need to bring similar attention, financial investments, and innovation into our public policy efforts on behalf of young children. In early childhood education, there are severe problems related to both supply and demand. Most families cannot afford to pay higher fees, but 46 percent of early childhood educators require some form of public assistance to make ends meet—and only a fraction of children are receiving the program support and services they need. From my vantagepoint at NAEYC, I see an early childhood marketplace that is both inspiring and in crisis.
One of our moonshots: elimination of economic and opportunity disparities based on race.
Beyond the entrepreneurial pitches, I was heartened by the boldness of the visions for our field. Let's dream big. Let's ask for what we need. Let's work like the future of our country depends on our success. Let's put the moonshot (their words) on the table.
So, trimmed down to a three-minute pitch, here are my moonshots:
Paid family leave for moms and dads with children from birth to age one.
Affordable, voluntary, full-day, year-round, high-quality, developmentally appropriate early childhood education, that takes advantage of the current mixed-delivery system
Debt-free associate degrees and bachelor's degrees for all early childhood educators
Compensation and benefits that bring early childhood educators into the middle class and incentivize our most talented teachers to remain in the field
Elimination of economic and opportunity disparities based on race—for young children, their families, and early childhood educators
An aligned professional field of practice for early childhood educators
Well-child visits, including full developmental screenings, for every infant and support for families in accessing services, as needed
Diagnostic and assessment tools so refined that the most effective education approaches and intervention programs are targeted to children with the precision of a spaceship landing on Mars
The table is big enough for everyone. Let's welcome every idea and every mind. And let's rigorously hold ourselves accountable for attaining the public policy agenda that our children, families, and educators need.
What are your moonshots? I'd love to hear about them! Please share your ideas at hello.naeyc.org.
Rhian Evans Allvin
Rhian Evans Allvin is the chief executive officer of NAEYC. She is responsible for guiding the strategic direction of the organization as well as overseeing daily operations. Before joining NAEYC, Evans Allvin was a guiding force in Arizona's early childhood movement for more than 15 years, including serving as CEO of Arizona's First Things First.