The Reading Chair: September 2020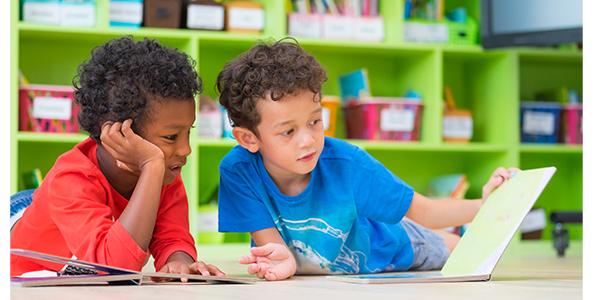 You are here
Isabel Baker, Miriam Baker Schiffer
From 1 to 10

By Mies van Hout. 2019. Toronto, ON: Pajama Press. 24 pp. Ages birth to 4.
A lovely and artistic counting book, From 1 to 10 is unrushed, with one number per double-page spread. Readers will enjoy counting the body parts on a group of friendly animals—which, for young readers, means this book teaches more than just counting. There's "1 belly" on the bear, "2 ears" on the rabbit, "3 spots" on the ladybug, and eventually "10 whiskers" on the cat. The animals are painted in vibrant colors, and the counted body parts visually pop on the page! The generously sized pages are made of durable card stock with rounded corners. In the book's back matter, adults will find suggestions for counting activities.
---
Daniel's Good Day

By Micha Archer. 2019. New York: Nancy Paulsen Books. 32 pp. Ages 3 to 6.
When Daniel's neighbors tell him "Have a good day!" he wonders what it means and sets off on a walk to find out! To the house painter, it means clear skies. To the nanny, it means her twins take a nap. To the bus driver, it means a "please" and a "thank you." Daniel incorporates these and other interpretations into his own definition of a good day, which he shares with his mother.
Archer's oil and paper-collage illustrations show a diverse neighborhood hopping with activity. The message that joy can be found in many ways, including in everyday activities, is apt when the world feels upside down. Almost every activity shown in the book (taking a walk, flying a kite, delivering mail, operating a bakery) goes on even when people are spending more time at home.
---
Beware of the Crocodile

By Martin Jenkins. Illus. by Satoshi Kitamura. 2019. Somerville, MA: Candlewick Press. 32 pp. Ages 4 to 8.
Thanks to Martin Jenkins's background as both a conservation biologist and a prolific children's book author, science and storytelling come together in this homage to crocodiles, teaching children about how they eat, parent, and live. Jenkins writes in an easygoing, conversational style but doesn't shy away from the scary stuff. The result is a book that is inviting, informative, and occasionally (just a little) frightening! Extra details and interesting facts can be found in small print throughout the book and in back matter. Did you know a large crocodile can lay up to 90 eggs at a time?
Kitamura's illustrations are a blend of fierce, funny, and factual. He uses double-page spreads to capture the size of the beast, and he infuses levity in just the right places. Readers may feel both armed and disarmed as they learn about these powerful creatures. We were surprised by how fondly we felt toward crocodiles by the end of the book.
---
A Piglet Named Mercy

By Kate DiCamillo. Illus. by Chris Van Dusen. 2019. Somerville, MA: Candlewick Press. 32 pp. Ages 3 to 7.
Mercy Watson has arrived! This little piglet bounced
off the back of a farmer's pickup truck and found herself sitting on the doorstep of Mr. and Mrs. Watson, a kind couple who have no idea how exciting their life is about to become. Older readers have long enjoyed Newbery Award-winner Kate DiCamillo's series of early chapter books about this irresistible animal who has a habit of getting into things while enjoying the never-waning support of her parents, the Watsons. In this new volume, DiCamillo presents a prequel in picture book format that tells the story of how Mercy becomes part of the Watson family. An array of characters come swiftly to life and fill Mercy's world with a full spectrum of feelings, philosophies, hurdles, and comforts.
Van Dusen's illustrations play an even more pivotal role in this picture book format, though they have been an integral part of the series' success since the beginning. He blends cartoonish comedy with fine detail work and is masterful with facial expressions and color.
---
What Kind of Car Does a T. Rex Drive?

By Mark Lee. Illus. by Brian Biggs. 2019. New York: G.P. Putman's Sons. 40 pp. Ages 3 to 7.
It's hard not to feel sorry for Uncle Otto, who is so eager for customers at his auto dealership that he declares he'll sell a car to "anyone—or anything—that shows up." He's in for a shock when dinosaurs arrive! But just when things are working out . . . what's that lurking off the page? This silly story is full of dramatic tension and speaks to children's love of dinosaurs and cars and of using their imaginations. Children also enjoy being problem-solvers, and Uncle Otto sure needs help putting clues together.
Lee's story is well-paced, with page turns emphasizing cliff-hangers and solutions. The book leaves one problem unsolved—something for the reader to grapple with. The large format of the book is fitting for the subject matter. Biggs's illustrations (which recall the 1960s) make excellent use of perspective and negative (blank) space.
 

Forever Favorites

In each issue we feature a classic book to (re)introduce teachers to old favorites.
Go Away, Big Green Monster!

By Ed Emberley. 1992. New York: Little, Brown and Company. 28 pp. Ages 2 to 6.
Being scared and working through fears is part of childhood, but lately children are grappling with an extra dose of worry. This popular classic is a confidence-builder, making it timely for young readers. Using die cuts and bold colors, a monster comes to life as its features are revealed page by page. By the middle of the book, children face the monster in its full form. But then the story takes a turn and readers get to shout at it to "GO AWAY!" Page by page, the monster slowly disappears. This process of letting children face the monster, take control, and make it disappear is so much more helpful than telling them "Don't be scared." The book concludes with a stroke of brilliance: "DON'T COME BACK!" the reader gets to shout. And then, in smaller print, there's a whisper: "Until I say so." Sometimes children like to let themselves become scared in safe ways so that they can rehearse being brave. This book gives children a platform for doing both.
---
Isabel Baker
Isabel Baker, MAT, MLS, is the founding director of The Book Vine for Children, a national company dedicated to getting good books into the hands of preschool children and their teachers. Isabel has worked as a children's librarian and is currently a presenter on early literacy and book selection.
Miriam Baker Schiffer
Miriam Baker Schiffer, MFA, is a writer in Brooklyn, New York. She consults on book selections for The Book Vine, in McHenry, Illinois. Miriam's children's book, Stella Brings the Family, was published by Chronicle Books in 2015.