The Reading Chair: Summer 2022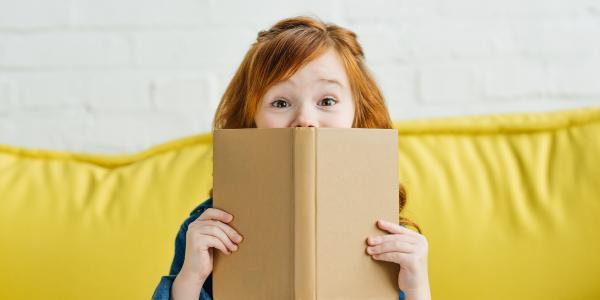 You are here
Isabel Baker, Miriam Baker Schiffer
Peekaboo: Apple

By Camilla Reid. Illustrated by Ingela P. Arrhenius. 2020.
Somerville, MA: Candlewick Press. 8 pp. Ages birth to 2.
The game of Peekaboo, through which babies explore object permanence (the understanding that people and things still exist even if they are out of view or hearing), never goes out of style. And it is particularly stylish in this beautifully designed board book that is the latest in the Peekaboo series. Pull tabs on each page cause various characters (a baby in a buggy, a worm in an apple, a snail in its shell, and more) to hide and reappear. The images and the characters are playful, rendered with bright colors and clean lines. A hidden mirror at the end continues the participation for the reader. This sturdy and artful book is well-constructed and offers many opportunities for spirited engagement between reader and child.
 

---
Time for School, Little Blue Truck

By Alice Schertle. Illustrated by John Joseph, in the style of Jill McElmurry. 2021.
New York: Houghton Mifflin Harcourt. 32 pp. Ages 2 to 6.
When a book series is as long-running as Little Blue Truck, the new titles can lose their oomph. But this new addition to the series is an excellent social and emotional learning title with real staying power. Bouncing rhyme keeps the story moving ("Little Blue Truck / came down the road / early one morning / with good friend Toad."), and artist John Joseph has done an excellent job of maintaining the style of the series' original illustrator, the talented Jill McElmurry, who died in 2017.
Little Blue Truck passes a school bus one morning and yearns to be important like the big yellow vehicle. Blue wishes he were busy taking all of the neighborhood animals to school. Then, Blue discovers that one animal has missed the bus and will be late. Blue's knack for off-road driving means they can take a short cut and make up lost time. Blue loves to be helpful. When they meet up at the school, the yellow bus compliments him for his good work. What a great resource for discussing ideas of collaboration and support in the classroom and beyond!
---
How to Help a Pumpkin Grow

By Ashley Wolff. 2021. New York:
Beach Lane Books. 40 pp. Ages 3 to 7.
Imagine an unembittered version of the "Little Red Hen," where a community of animals comes together to nurture and harvest a patch of pumpkins and then to bake and carve them together. Wolff loves border collies (think of her character Miss Bindergarten), and that is just who she puts as the leader here, teaching the other animals how to fence, weed, water, and manage the vines. This is a feel-good book in which everyone wants to help, and everyone ends up with their own pie—a great example of how working together can benefit all of us. Wolff's rhyme keeps the story moving, and the warm illustrations are full of detail without losing the focal point on each page. It is also an excellent planting and growing book and pairs well with a project or unit on seeds and plants.
---
Room for Everyone

By Naaz Khan. Illustrated by Mercè López. 2021.
New York: Atheneum Books for Young Readers. 40 pp. Ages 3 to 7.
Musa and his sister board the daladala (a shared minibus), heading to the beach for the weekend bazaar. But if Musa was hoping for a quiet ride, he is in for disappointment. Everyone is heading the same way! An old man with a bicycle, a herder with two goats, vendors with baskets of fruit and tall stalks of sugar cane, a gaggle of scuba divers with tanks, and more. This is Zanzibar, an archipelago (group of islands) that is part of the country of Tanzania, where food, the arts, and everyday life are overflowing with cultural influences from the various peoples who have come through.
Musa learns that you can squeeze more into a daladala than he ever imagined. When they arrive at the beach and everyone spills out with their wares, readers will feel relieved and refreshed. Khan's rhyme is evocative and full of fun words and phrases, such as "It's hotter than peppers out there in the sun!" She includes a glossary and author's note explaining local terms (from Arabic and Swahili) and her connection to the country. López's illustrations convey bouncing energy, a sense of organized chaos, and the warmth and connectedness of the community.
---
Try It! How Frieda Caplan Changed the Way We Eat

By Mara Rockliff. Illustrated by Giselle Potter. 2021.
New York: Beach Lane Books. 32 pp. Ages 4 to 8.
Have you seen a purple tomato, eaten baby corn, taken a bite of a juicy Asian pear, or enjoyed the reddish-purple flesh of a blood orange? What about mangosteen, a donut peach, or green cauliflower? Readers may be surprised to learn that these interesting fruit and vegetable varieties were introduced to the broader American public by one amazing produce purveyor, Frieda Caplan. She was the first woman to run a produce stand at the Seventh Street produce market in Los Angeles. At a time when the nation's palate was stuck on potatoes and tomatoes and apples and bananas, Frieda popularized something new and exciting, and she made a name for herself doing so. How fascinating that one creative and driven woman could have such an impact on our food tastes!
The richly colored watercolor illustrations showcase period clothing and make the delectable new foods pop off the page. They also feature racially diverse characters. For teachers looking to extend the book in the classroom, don't worry, you don't need to procure anything too hard-to-find. Frieda also promoted kiwi and sugar snap peas, which can be observed during field trips to your local grocery store.
Forever Favorites

In each issue we feature a classic book to (re)introduce teachers to old favorites.This story is new, but it so perfectly keeps with the spirit of the original Harry the Dirty Dog that we decided you should know about them both.
Harry and the Guinea Pig
By Nancy Lambert. Illustrated by Saba Joshaghani. In the styles of Gene Zion and Margaret Bloy Graham. 2021. New York: HarperCollins Children's Books. 32 pp. Ages 3 to 7.
The classic tale Harry and the Dirty Dog was published in 1956, and a handful of sequels followed. This story, created by a new author and illustrator in the original style, is another success. In it, fun-loving Harry gets jealous when the neighbor's guinea pig moves in for a few days and takes the family's attention away from Harry. In an attempt to win back their attention, Harry accidentally puts the guinea pig in harm's way, which he had not wanted to do. Thankfully, Harry comes to the rescue, and everyone is so proud of him.
This sibling rivalry book in disguise is full of humor, good intentions, and just enough disaster to build tension—and may also be relatable to young readers navigating emotions with siblings or other close relations. The illustrations are in the same style as Harry readers have come to expect, with facial expressions that are easy to read and offer wide appeal.
---
Copyright © 2022 by the National Association for the Education of Young Children. See Permissions and Reprints online at NAEYC.org/resources/permissions. 
Isabel Baker
Isabel Baker, MAT, MLS, is the founding director of The Book Vine for Children, a national company dedicated to getting good books into the hands of preschool children and their teachers. Isabel has worked as a children's librarian and is currently a presenter on early literacy and book selection.
Miriam Baker Schiffer
Miriam Baker Schiffer, MFA, is a writer in Brooklyn, New York. She consults on book selections for The Book Vine, in McHenry, Illinois. Miriam's children's book, Stella Brings the Family, was published by Chronicle Books in 2015.