4 Things Kindergarten Teachers Want You to Know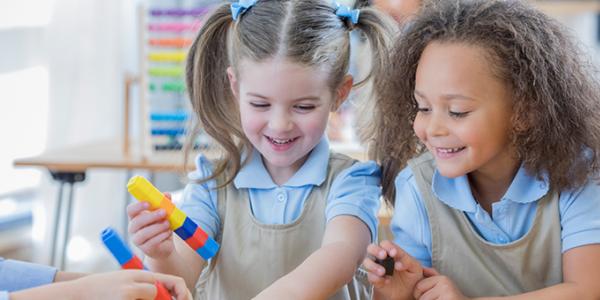 You are here
by Karen and Tom Buchanan
Kindergarten teachers are passionate about partnering with the families of their students. When families and teachers work together, kids win!
Here are four things that kindergarten teachers want you know.
1. Parents Play a Critical Role
Kindergarten teachers value you as your child's first teacher. They are honored to take their place as another significant adult in your child's life. Kindergarten teachers want to facilitate your child's continued development and help him learn how to be a successful student in a school setting.
What you can do:
Welcome your child's kindergarten teachers as an important partner in your child's development.
Share what you have discovered about how your child learns and include examples of times when your child has learned something new.
2. The Value of Families and Teachers Working Together as Partners is Research-Based
Research tells us that when families are involved, children do better academically and socially. Kindergarten teachers are committed to developing a collaborative partnership with your family on behalf of your child's growth and development.
What you can do:
Tell the teacher that you sincerely want to work with them to help your child learn and grow.
Ask the teacher to offer specific ideas and strategies that will involve you in your child's learning.
3. Communication is Key
Communication with families is such a high priority that kindergarten teachers are willing to use a variety of methods to correspond. Some parents prefer to connect via email or text, while others prefer to receive a phone call or a printed letter in their child's backpack. Kindergarten teachers want to communicate in the ways that make sense for you and your family.
What you can do:
Ask the teacher the best way to access information about the classroom and the school.
Share with the teacher your preferred method of communication.
4. Teachers Want to Know What Makes Your Family Unique
The families we work with have varied backgrounds and different configurations. Kindergarten teachers want you to know that they value the distinctiveness of your family. Learning about those qualities and values that make your family unique, improve our ability to partner in the healthy development of your child.
What you can do:
Tell your child's teacher about the unique characteristics of your family.
Let the teacher know about family changes and challenges at home that may impact your child's attitudes and behaviors at school.
Building bridges between kindergarten teachers and families is an important step in supporting your child's learning and development.
 
---
Dr. Karen Buchanan teaches in the Doctor of Educational Leadership program at George Fox University. Dr. Tom Buchanan is Director of the Master's of Arts in Teaching Program at George Fox University. Tom and Karen share a research passion around family engagement in early childhood settings. This article is a result of a research presentation at NAEYC's 2014 National Institute for Early Childhood Professional Development conference; Building Bridges Between Kindergarten Classrooms and Families.