Reading, Auditory Discrimination Apps and eBooks for Early Learning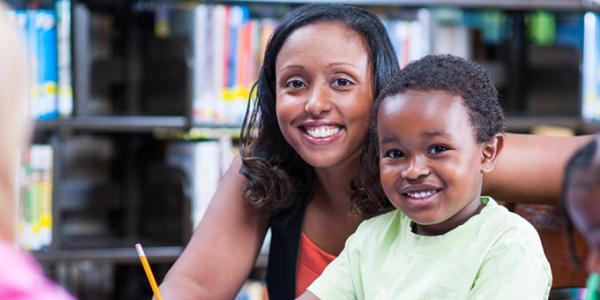 You are here
By: Warren Buckleitner
Reading Skills
Your iPad can be a powerful ally as you help a young child build his or her language skills. From letter recognition to comprehension, there's an app to support just about every skill.
Endless Reader, Originator www.originatorkids.com, ($2.99 on iPad, iPhone) , for ages 3-7. Good for home or school.
Why we like it: Playfully introduce your emerging readers to 99 common sight words, with Endless Reader, a freemium app designed to extend Endless Alphabet. You complete a sentence by dragging and dropping missing words into place. You start by building a word (like ball, in Level 1) one letter at a time. You then see the word in an unconventional sentence ("Sherbert can balance the red ball on her nose!"). Each word jumps to life when it is dragged and dropped into place; a process that can be shared by more than one child. There's a funny animated skit that provides some context for each number (the words "bounce" for the world ball, for example.  Level 1 contains Pre-K through K, Level 2 is early elementary, and Level 3 covers middle elementary (grades 3 and 3).
Need to know: The free version of the app teases you with a small set of just seven starter words and associated sentences.  An additional pack of 20 words costs $5, or $12 for all 99 words. It is best to download all the content at once, so children are not exposed to activities they can't play. Despite these commercial drawbacks, this app presents a valuable reading experience. Also check out the Endless Numbers video: http://youtu.be/OsPZSnlGYfA
LetterSchool by Boreaal Publishers http://boreaal.nl/, ($2.99 on iPad, iPhone, iPod Touch), for ages 3-up.  Good for home or school.
Why we like it: Learning to write letters and numerals will never be the same after a child tries LetterSchool on an iPad's slippery screen. This single app from the Netherlands has raised the bar for all letter/numeral recognition apps.
Need to know: Content includes both uppercase and lowercase letters, as well as numbers from 1 to 10 in D'Nealian (used in many US schools), HWT (Handwriting Without Tears) and Zaner-Bloser (the "traditional" format).
Auditory Discrimination
There are so many important learning opportunities that are off the traditional curriculum map.  Here are few important apps to keep in mind.
Astropolo, Les Trois Elles Interactive http://lestroiselles.com/en, ($2.99 on iTunes), for ages 4-8.  Good for home or school.
Why we like it: Eight beautifully illustrated, short games combine cut paper images with an outer space theme. Two of the activities (Take Off! and Zleepy) use your iOS microphone, and challenge you to control the volume of your voice (or other noisemaker) to succeed at a simple task, like getting a rocket to take off, or putting a bear to sleep.
The other games consist of timing and fine motor challenges. Another app that lets you "see" sound is Singing Fingers.
Need to know: The app does not feature a progress indicator, so it's hard to know how long the challenge will last. The app also includes a star/scoring mechanism that lacks logic. Note that the microphone activities require a quiet space to work so a noisy classroom,  car or social space could prevent the app from working properly which could frustrate a child in the process.
Video: http://youtu.be/m96Ho9iXwys
eBooks
There's no longer any doubt that quality children's literature can be found on the belongs on the iPad.  In fact, some stories are stretching the very definition of children's literature.
How I Became a Pirate, Oceanhouse Media www.oceanhousemedia.com, ($3.99 on iPad 80.4 MB), for ages 5-up.  Good for home or school.
Why we like it: This is just one of the hundreds of Oceanhouse Media apps that are based on digitized picture books. The story remains untouched, but the illustrations and text are enhanced with excellent scaffolding features that include responsive touch-and-hear text and illustrations. When words  are touched, they "fly out" of the page. These types of apps are excellent for helping emerging readers build meaning symbols. The app also allows the user to to record and store narration.
Need to know: If you're looking for bells and whistles, you won't find it in this app. Instead, the story keeps you wanting to turn the page, just like the good old days.
Where's My Monster?, ($2.99 on iPad, iPhone, iPod Touch ), for ages 3-up.  Good for home or school.
Why we like it: Thirteen monsters are hiding behind red pull-tabs in this clever story about a mother trying to find her child. The text is "read" and you can pull to open the door, drawers, closet and many more hiding places before finding Mother's Monster.  Need to know: There's a limited number of monsters to find (just 13).  All in all, this is an excellent app for children as young as three, and it makes a nice language enrichment app as well.
Petting Zoo, ($.99 on iPad, Android, 41.6 MB ), for ages 3-up.  Good for home or school.
Why we like it: This innovative "immersive sketch" by New York Times cartoonist Christoph Niemann connects one "page" (or screen) with the next by way of often-related interactive features. For example, in one screen you can play with the musical teeth of an alligator. When you press the page turn icon, the teeth become legs, which run away and turn into a giraffe.
Need to know: There are 21 animals, many of which respond to touches or swipes.  This app has a high novelty effect, but it fades quickly because the content never changes. It is a good example of innovation in interactive children's publishing.
Read more about tablets and apps that Warren Buckleitner recommends for young children! 
---
ABOUT CHILDREN'S TECHNOLOGY REVIEW
Children's Technology Review (CTR) is an ongoing rubric-driven survey of commercial children's digital media products. Like Consumer Reports, CTR takes no advertising, and there are no entrance fees, affiliate links or hidden costs to publishers.  Started in 1993 by Warren Buckleitner, the for-profit service is dedicated to helping children aged 0-to 15-years, by making it easier for their teachers, librarians, publishers and parents to stay up-to-date on new digital products through timely, objective information. CTR is sold as a subscription, and is delivered weekly to subscribers, who also receive access to review database. Learn more at http://www.childrenstech.com or search the review database at http://pickyteacher.com.
 
ABOUT WARREN BUCKLEITNER
Warren Buckleitner is a former preschool teacher and current software reviewer. He's the editor of Children's Technology Review, a project that started in 1983 at the High/Scope Foundation.  He holds a MA degree in early childhood education from Pacific Oaks College. He also holds degrees in elementary education and educational psychology.