Selecting Apps to Support Children's Learning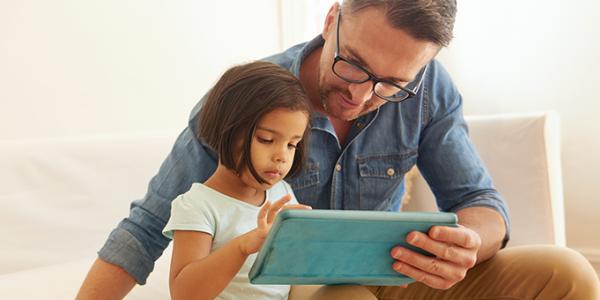 You are here
By: Warren Buckleitner
Can you give us some guidelines to use when selecting apps for young children 8 and under?  
Start with what you know about each child and the learning setting and ask, "How can this particular app, or digital tool influence the learning outcome?" In the early stages of any technology implementation, a lot of observing and tweaking is required. An app that gets a high rating from an adult might get today's equivalent of the hook (the iPad's HOME button) from a child, while another app that you overlooked might become a child's favorite. There are no exact guidelines that can be applied without first understanding the child, the app and the setting.
Are there some hallmarks of quality apps for early childhood?
I always look for the "DAP in the app." So, you ask, what makes some apps developmentally appropriate and others not? One general factor is ease of use. That means a responsive "crisp" interface that fosters feelings of control, and makes it easy for children to get out of whatever they get into. There are also many attributes to look for that are associated with fun and learning, but, again, these can vary widely depending on the intention of the app.
Depending on type of app, there are specific sets of features to look for. For example, a camera-based experience like Toca Hair Salon Me should make it easy to save work, while a didactic puzzle app that has correct/incorrect responses, like Busy Shapes should have auto-adjusting features.
Some general questions to ask when looking for quality apps:
Can you individualize the experience for a specific child?
Can the child control the sound or background music?
Are there multiple language options?
Can more than one child play at once? (especially a consideration for teachers)
What does it cost? You can get a lot of value for one or two dollars in the app store these days, if you know what you're looking for. If you find something you don't quite like, keep looking. It's likely that you can find a better app at the same price.
Are there multiple levels, so there is always a challenge?​
When do you feel an app is not worth a child's time?
Commercial agendas, licensed characters and tie-ins to toys or movies.
Too hard, or too easy.
No way out of an activity
Gender and ethnic bias
Poor quality illustrations, narration and music
"Free content that is really just a sample."
Why should I avoid free apps with sample content?
Why should I avoid free apps with sample content?
The old adage "you get what you pay for" certainly holds true for children's apps these days. A free app that offers a sample of content might look good at first, but it may end up leading a child into a dead end, because key features are disabled or the content ends, just when a child gets interested. This is a waste of something very precious - a child's energy. I've seen alphabet apps that only list letters up to 'M' before prompting a child to pay up. Sadly, there's no shortage of bad business behavior in the children's app space, as clever publishers try to tease children into making in-app purchases.
---
Read more about tablets and apps that Warren Buckleitner recommends for young children!
---
ABOUT CHILDREN'S TECHNOLOGY REVIEW
Children's Technology Review (CTR) is an ongoing rubric-driven survey of commercial children's digital media products. Like Consumer Reports, CTR takes no advertising, and there are no entrance fees, affiliate links or hidden costs to publishers.  Started in 1993 by Warren Buckleitner, the for-profit service is dedicated to helping children aged 0-to 15-years, by making it easier for their teachers, librarians, publishers and parents to stay up-to-date on new digital products through timely, objective information. CTR is sold as a subscription, and is delivered weekly to subscribers, who also receive access to review database. Learn more at http://www.childrenstech.com or search the review database at http://pickyteacher.com.
 
ABOUT WARREN BUCKLEITNER
Warren Buckleitner is a former preschool teacher and current software reviewer. He's the editor of Children's Technology Review, a project that started in 1983 at the High/Scope Foundation.  He holds a MA degree in early childhood education from Pacific Oaks College. He also holds degrees in elementary education and educational psychology.