Math & Logic and Science Apps for Early Learning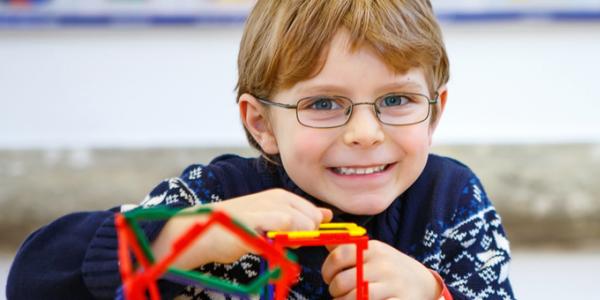 You are here
By: Warren Buckleitner
Math and Logic
From counting to comparing quantities, there are hundreds of apps that support early mathematical learning.
10 Fingers +, ($1.99 on iPad), for ages 3-6. Good for school. Video demo at http://youtu.be/yeTMEzDXIvg
Why we like it: Did you know that your tablet's screen can "see" how many fingertips are contacting the screen at any given point? This app uses this information to create a real-time counting machine. All you need are your ten fingers. The instant one of your fingers comes in contact with the screen, a math equation changes, helping children make the connection between quantity and a simple number sentence, like 3 + 5 = 8.
Need to know: While pedagogically exciting, the app doesn't give children a reason to count. It can nicely accompany an activity where counting is involved. See also Little Digits for a similarly designed app.
Busy Shapes, ($2.99 on iPad), for ages 2-5. Good for home and school. Video: http://youtu.be/msL9y_9t_j4
Why we like it: This smart, responsive, automatically adaptive set of classification puzzles tracks progress and doesn't waste a child's time with sugary praise. The multi-touch features support collaborative play and the design supports experimentation.
Need to know: The progress bookmarking feature works best with one child at a time.
Science
You can't easily take your class on a submarine, or inside a human heart. Unless you have the right app.
The Human Body ($2.99 on iPad, iPhone), for ages 4-up.  Good for home or school.
Why we like it: Explore the wonders of the human body, without embarrassment. The result is one of the best human anatomy experiences we've reviewed. The animated graphics are clear, yet free of gore. Of particular note are the working models of the human eye and ear, that incorporate the features of the camera and microphone.  Need to know: You can create individual profiles for each child, plus parent options that let you track children, and multiple language options are available. See the full review for the list. Works with all devices, except the iPad 1.
MarcoPolo Ocean, ($2.99 on iPad ), for ages 3-up.  Good for home or school.
Why we like it: This sandbox style app lets your child construct his or her knowledge of the ocean, one fish, shell, or boat at a time. We've seen hundreds of touchscreen drag-and-drop puzzles, but none where the parts are interrelated. As an added bonus, each item comes with a short factual description that is narrated by a marine biologist. This is an outstanding way to build a child's emerging interest in oceanography, without ever getting wet feet.  
Need to know: Visit the menu for parents, where you can toggle off/on the tropical background music, and adjust level of factual information that is given. You can also reset your child's ocean, if necessary. Video: http://vimeo.com/81442324
---
Read more about tablets and apps that Warren Buckleitner recommends for young children!
---
ABOUT CHILDREN'S TECHNOLOGY REVIEW
Children's Technology Review (CTR) is an ongoing rubric-driven survey of commercial children's digital media products. Like Consumer Reports, CTR takes no advertising, and there are no entrance fees, affiliate links or hidden costs to publishers.  Started in 1993 by Warren Buckleitner, the for-profit service is dedicated to helping children aged 0-to 15-years, by making it easier for their teachers, librarians, publishers and parents to stay up-to-date on new digital products through timely, objective information. CTR is sold as a subscription, and is delivered weekly to subscribers, who also receive access to review database. Learn more at http://www.childrenstech.com or search the review database at http://pickyteacher.com.
 
ABOUT WARREN BUCKLEITNER
Warren Buckleitner is a former preschool teacher and current software reviewer. He's the editor of Children's Technology Review, a project that started in 1983 at the High/Scope Foundation.  He holds a MA degree in early childhood education from Pacific Oaks College. He also holds degrees in elementary education and educational psychology.