Social Play and ESL Apps for Early Learning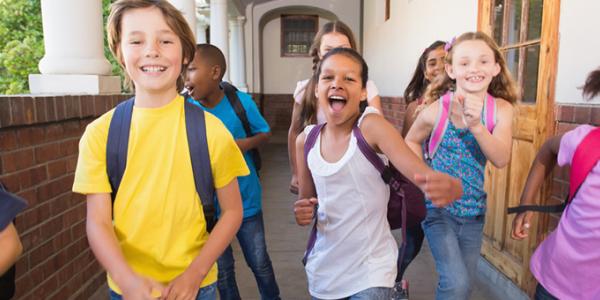 You are here
By: Warren Buckleitner
Social Play
Does technology promote solitary play? Or can it help a child learn to socialize? It depends entirely on the app. Here are a few that foster collaborative play.
Osmo, Tangible Play www.playosmo.com/, ($100 on iPad 2 or later (with camera), iPad Mini, for ages 3-up.  Good for home or school.
Why we like it: The world of apps and screens meets the world of real items, like tangram blocks, objects like pens, coins or anything else you might have in your pocket, with Osmo, an interesting iPad app. The $100 kit contains a tiny mirror and plastic stand. There are three apps (free to download, that won't work without the accessory) that will work any iPad that has a front facing camera.
Need to know: This is a great collaborative experience but it's expensive and ties up your iPad. We watch groups of children work together on a tangram puzzle, as the iPad provided the objective feedback.  See the video: https://www.youtube.com/watch?v=CbwIJMz9PAQ
Sago Mini Space Explorer, Sago Sago www.sagosago.com, ($2.99 on iPad), for ages 2-4.  Good for home or school.
Why we like it: The third in a series (see also Sago Mini Forest Flyer and Sago Mini Ocean Swimmer) this is another well designed, easy-to-use experience that is ideal for a first –time iPad user. In this case, that means a child as young as 18 months. That's because it uses a follow your finger design, where you help a character explore merely by touching the screen.
Need to know: There are no sales apps, although we noticed one illustration where Harvey plants a branded "Sago" flag on the moon.  Despite the Space Explorer title, this is a non-fiction experience, with no scientifically accurate content.
Toca Hair Salon Me, ($2.99 on iPad, iPhone), for ages 3-up.  Good for home or school.
Why we like it: The third edition of Toca Hair Salon lets you import your own photos, and morph them onto the animated faces of your haircut customers; complete with blinks, yawns and stretches. The effect is rather startling. When you combine this feature in the the easy-to-use Toca Hair tools, you have one of the best creativity apps of the year.
Need to know: You'll need to grant the app permission to use the camera and to store photos.
Video review: http://youtu.be/7Bg0Lxyjl8o
ESL
There's a hidden treasure that comes built into many apps - the ability to toggle between languages.  Open a familiar app and let a child try it in Chinese, or use a specialized app like one of the "Touch, Look and Listen" apps listed below to help build familiarity with common words in a new language.
What Do I Wear? - Touch, Look, Listen; StoryToys www.storytoys.com, ($1.99 on iPad, iPhone, iPod Touch (OS 5.0 or later), Android, for ages 2-4.  Good for home or school.
Why we like it: The "Touch, Look and Listen" visual dictionaries keep expanding. This time, 65 common clothing items jump to life on 3D pages that allow you to either freely explore the objects, or take test our knowledge. The most important feature is the ability to customize the app with both a primary and secondary language from the main menu. Primary language options include English, Dutch and Chinese; second language options are French and Spanish.
Need to know: This is a great tool for a second language learner, of any age. Previous apps in the series cover zoo animals, starter words and things that go.
---
Read more about tablets and apps that Warren Buckleitner recommends for young children!
---
ABOUT CHILDREN'S TECHNOLOGY REVIEW
Children's Technology Review (CTR) is an ongoing rubric-driven survey of commercial children's digital media products. Like Consumer Reports, CTR takes no advertising, and there are no entrance fees, affiliate links or hidden costs to publishers.  Started in 1993 by Warren Buckleitner, the for-profit service is dedicated to helping children aged 0-to 15-years, by making it easier for their teachers, librarians, publishers and parents to stay up-to-date on new digital products through timely, objective information. CTR is sold as a subscription, and is delivered weekly to subscribers, who also receive access to review database. Learn more at http://www.childrenstech.com or search the review database at http://pickyteacher.com.
 
ABOUT WARREN BUCKLEITNER
Warren Buckleitner is a former preschool teacher and current software reviewer. He's the editor of Children's Technology Review, a project that started in 1983 at the High/Scope Foundation.  He holds a MA degree in early childhood education from Pacific Oaks College. He also holds degrees in elementary education and educational psychology.