Students Seeking a Degree in Early Childhood Education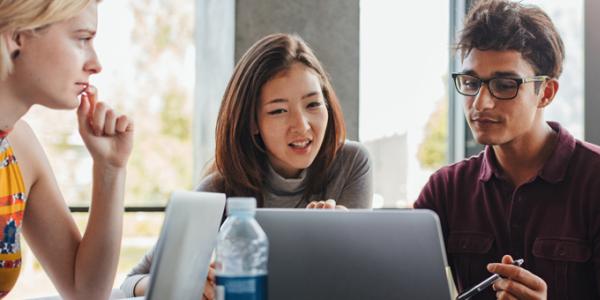 You are here
Looking for a Degree Program? Why Accreditation Matters

We know from research that having specialized knowledge and professional development in how young children develop and learn is critical for early childhood professionals. But earning just any early childhood degree or credential may not be enough. The content and quality of the program you choose to attend determines whether the program will give you the knowledge and skills you need to be an effective early educator.
Accreditation provides an external evaluation of professional preparation programs, which can help you choose a high-quality program that's right for you. Programs that earn accreditation have demonstrated that they meet a set of national standards—agreed on by experts in the early childhood field—to ensure students graduate with the knowledge and skills all early childhood professionals should possess. The NAEYC Commission on the Accreditation of Early Childhood Higher Education Programs is the body that grants NAEYC Higher Education Accreditation to U.S. programs at the associate, baccalaureate, and master's degree levels that prepare students to work in the field of early childhood.
The Council for the Accreditation of Educator Preparation (CAEP) is another mechanism through which high-quality teacher preparation is established. Up until early 2020, NAEYC partnered with CAEP to review and grant NAEYC National Recognition to early childhood programs at the baccalaureate, master's, or doctoral degree levels.
View this overview to learn more about the difference between NAEYC Accreditation and Recognition.
Benefits of Attending an Accredited Early Childhood Degree Program

Wondering about the benefits of earning your degree from an NAEYC Accredited early childhood degree program? Here are a few key benefits reported in a survey of faculty from accredited programs:
Accredited programs support student engagement and responsive practice. 75% of faculty members indicated that the accreditation process increased their students' engagement in collaborative and active learning.
Accredited programs focus on what professionals need to know and be able to do. Accredited programs provide rich experiences for you to learn and apply your understanding of the national professional standards. These experiences will give you a solid foundation, making you more marketable to employers.
Accredited programs are committed to quality. All degree programs do not have the same level of quality. Accreditation recognizes excellence in early childhood professional preparation at a time when current and future professionals are seeking specialized early childhood degrees and credentials.
Specialized accreditation matters. As a specialized accreditor, NAEYC examines programs preparing early childhood professionals to make sure they are meeting the standards for the early childhood field. Institutional accreditors review the college or university as a whole, without an in-depth focus on the institution's early childhood program.
---
What Professional Qualifications Do You Need?

Early childhood professionals work in many settings—child development programs (home-based and center-based) and public schools are common. The qualifications you will need to work in these settings are based on the type of funding the program receives and the level of quality the employers aim to achieve.
Before choosing which early childhood degree to pursue, keep in mind the professional qualification requirements for:
NAEYC-accredited early childhood programs serving young children
Head Start and Early Head Start funded programs
Child care subsidy funded programs*
Elementary school educators and administrators*
Programs participating in Quality Rating and Improvement Systems (QRIS)*
Licensed child development programs (home-based and center-based)*
Other related professionals like home visitors, early intervention specialists, and family service workers*
*Requirements vary per state. Your local Department of Education, Department of Health/Human Services, NAEYC affiliate, or early childhood college professor may be able to help you locate the resources applicable to your state.
---
Ready to choose a program?

When exploring programs or institutions at which to obtain your degree, in addition to considering programmatic accreditation, it's also important to be sure you're avoiding diploma mills. The term diploma mill refers to a non-regionally-accredited program or institution that offers a credential or degree for a fee while requiring very little course work. These programs often sound "too good to be true" and often employ aggressive advertising tactics to entice new students. Visit the U.S. Department of Education or Federal Trade Commission websites to learn more about diploma mills and how to avoid them.
By requiring all programs that pursue NAEYC Accreditation or Recognition to be accredited by a regional accreditor as well, the system ensures that diploma mills are ineligible for accreditation. You can be sure that by choosing to attend a NAEYC-Accredited or NAEYC-Recognized degree program, you will not be in danger of falling prey to fraudulent or ineffective degree programs.
Search NAEYC's Early Childhood Degree Directory
NAEYC has identified all early childhood degree programs offered at U.S. institutions to create an interactive directory. Search by distance, degree level, and accreditation/recognition status to find a program that meets your needs!