Haciendo conexiones: ¡Votemos!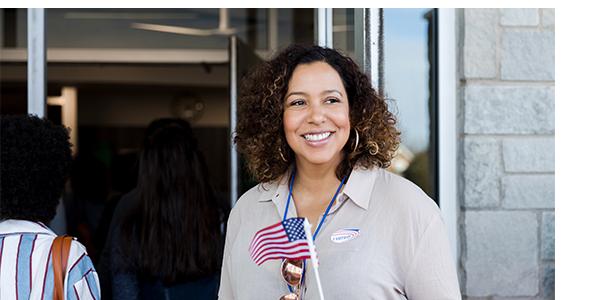 You are here
Yo crecí durante los años 80. Como muchos de la Generación X, la mayoría de mis memorias están relacionadas con la cultura popular y la moda de la década: la banda Duran Duran, Adam Ant, MTV, Depeche Mode, hombreras y la laca Aqua Net. Pero también tengo memorias concretas de eventos que comenzaban a formar mi comprensión de, y curiosidad por la democracia, la ley y la política. Estas memorias incluyen el atentado contra la vida del Presidente Reagan, la epidemia del SIDA y la destitución (impeachment) del Gobernador Evan Mecham de Arizona. En 1989, cuando cursaba el último año de la escuela secundaria, las protestas en la Plaza de Tiananmen y la caída del Muro de Berlín me dejaron una huella imborrable, en particular porque en los dos casos, eran los jóvenes quienes arriesgaban la vida para protestar contra los gobiernos opresivos que aplastaban la voz del pueblo. 
Estos dos eventos dieron forma a mi percepción profundamente arraigada de obligación y responsabilidad de participar en nuestra democracia desordenada y no equitativa, pero imprescindible. En 1992 voté por primera vez en la elección presidencial y ayudé a organizar el primer evento Rock the Vote de MTV en mi universidad. Realizamos campañas de inscripción de votantes en muchas partes del campus, transportamos a estudiantes a las urnas y les llevamos chocolate caliente y donuts para animarlos a seguir esperando en colas de cuatro horas.
He votado en cada uno de los comicios presidenciales desde entonces, lo que me lleva al tema del martes 3 de noviembre de 2020. A mi parecer, esta elección es la más significativa hasta ahora en mi vida. Mi voto importa, y el suyo también. Varias elecciones significantes se han decidido según un solo porcentaje. No obstante, demasiadas personas que pueden votar no lo hacen. Entre los individuos que son elegibles para votar, los datos pronostican que solamente un 60 por ciento lo hará.
¿Por qué es importante esto para los educadores de niños pequeños? Porque las elecciones importan, y no solo las presidenciales. Hay miles de carreras políticas que están sucediendo por todo el país y cada uno de ustedes puede tener una influencia poderosa para elevar el estatus de la educación infantil en las elecciones de congresistas, gobernadores, legisladores estatales, alcaldes, comités escolares y concejos municipales. Si usted cree que el bienestar de los niños y de la profesión de la educación infantil beneficia a la sociedad justo como a niños y familias individuales, tiene la responsabilidad de expresarse sobre el enfoque en y el compromiso con la educación infantil en los Estados Unidos.
En NAEYC, nuestra esperanza es que cada uno de ustedes vote y que utilice su influencia para alentar a otros a votar también. Queremos que el proceso sea de lo más sencillo posible:
Inscríbase y prometa votar en americaforearlyed.org/ourvotes (en inglés).
Obtenga una papeleta ejemplar para aprender más sobre los candidatos y las cuestiones en su estado y su comunidad.
Crea un plan para votar. ¿Votará anticipadamente, en ausencia, por correo o en persona? Entérese de las reglas de su estado. Si piensa votar en persona el Día de las Elecciones o antes, averigüe dónde está el lugar de las urnas y haga un plan para llegar allí y quedarse el tiempo necesario para esperar en fila, si es necesario.
Muchos de ustedes, en sus funciones y como defensores también pueden crear condiciones que fomenten una participación electoral fortalecida:
Colabore con organizaciones que tienen pericia para efectuar campañas de inscripción de votantes.
Utilice sus estrategias de comunicación, desde el email hasta mensajes en las mochilas y las llamadas telefónicas, para transmitir recordatorios no partidarios acerca de las fechas límite de inscripción para votar, ubicaciones de las urnas y el Día de las Elecciones a familiares, empleados y ayudantes voluntarios.
Cree de antemano un plan y un horario del Día de las Elecciones para que usted y sus colegas, empleados y familiares tengan tiempo para votar.
Desarrolle una estrategia, solo o con otros, para ayudar a las personas a llegar a las urnas o para fomentar los esfuerzos de entidades que ofrecen el transporte a los lugares de votar.
La determinación de usted a votar este otoño es esencial para sí mismo, sus vecinos, los niños y familias a quienes sirve y los programas y servicios que ha luchado tanto por desarrollar y mantener. Haga un plan, no deje que nada lo obstaculice y vote como si nuestro futuro dependiera de que lo haga. Porque así es. 
Rhian Evans Allvin
Rhian Evans Allvin is the chief executive officer of NAEYC. She is responsible for guiding the strategic direction of the organization as well as overseeing daily operations. Before joining NAEYC, Evans Allvin was a guiding force in Arizona's early childhood movement for more than 15 years, including serving as CEO of Arizona's First Things First.