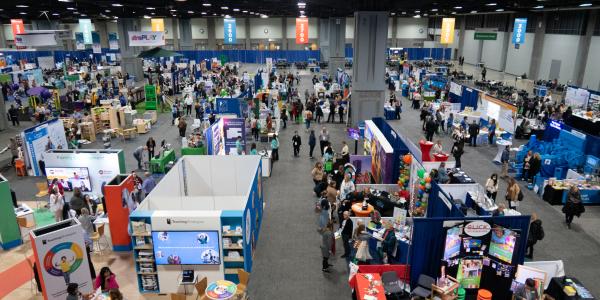 You are here
The 2023 NAEYC Annual Conference Expo will take place November 15-17 in Nashville, TN at the Music City Center. The Expo is one of the world's largest early childhood education show floors with over 275 exhibitors and three days of excitement. NAEYC's Annual Conference is designed for all early childhood professionals, including classroom teachers, center directors, administrators, and leaders who prepare, mentor, and support early childhood professionals. New exhibitors are invited to select booth space starting on January 30, 2023. Please contact the team below to learn more.
Exhibitor Benefits

8' Back Drape and 3' Side Drape
Company Identification Sign
Four (4) Full Conference Registrations (4 staff badges per every 100 sqft. with a maximum of 20)
Company name, booth number, product category(ies) and URL listing in the event program and in the digital version
Event Advertising Information

Attendee Bag Insert - Sold Out
Event Program Advertisement
Exhibitor Alert: Beware of Unauthorized List Sales Claims

As the official show organizers of the NAEYC Annual Conference, please be aware that we do not sell the show lists of attendees or exhibitors to anyone at any time. Should you receive unsolicited emails from people claiming to have the show list, you are encouraged to contact us, and we will review options to request them to cease and desist this misrepresentation.
Contact Our Team:

Exhibits

Susan Waters
[email protected]
856-344-3615
Merle Zappan
[email protected]
856-302-0884
Debi Maines (logistics)
[email protected]
856-302-0890
Advertising and Sponsorship

Codi Trump
[email protected]