Ideas to Spark Rich Conversations with Your Children!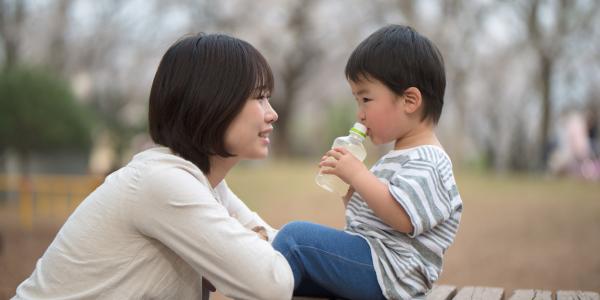 You are here
By: Janis Strasser and Lisa Mufson Bresson
As the parent of a young child, you know that children are curious and eager to learn. Their wide-eyed wonder as they discover spiders, rainbows, and other amazing things that most adults take for granted is one of the great joys of raising a family. To help you make the most of those moments—and to inspire even more of them—we offer several easy strategies for sparking rich conversations.
There is a big difference between asking questions with yes or no, right or wrong answers and asking questions that excite and encourage your child to think and share ideas with you! For example, "How many buttons are on your shirt?"  has a one-word answer. In contrast, "Which shirt is your favorite? Why do you like it so much?" or "If you could create any kind of shirt to wear, what would it look like?" might lead to your child drawing that shirt, creating a collage shirt by cutting out pictures from magazines, or browsing the internet with you to see shirts that people wear in different countries. 
Of course, you know your child best. If you have a toddler giving one or two word answers, you could still ask how and why questions and then build on those short responses. Hearing your questions and listening to you expand on answers will help your child learn new words and new ways to communicate. As your child grows, continue asking questions that call for lots of ideas and opinions. Even everyday activities, like deciding whether to have applesauce or yogurt as a snack, could lead to vocabulary-building conversations about nutrition, flavor, texture, or how foods are made.  
If you ask a question and your child doesn't respond, don't worry. It just means that right now, it's not the right question.. For example, if you ask, "How do you think that big house was built?" (a very complex question!), your child stare blankly and remain quiet. Instead, try asking for a description like, "Tell me about what you see on that house." Or "Do those big rectangle bricks remind you of any toys you have?" After having a few discussions about what your child already knows about building (Legos, blocks, Bob the Builder, a favorite book about construction workers and big machines), try asking your complex again!
Topics to Explore

Think about what interests your child. Those are the topics that will be most exciting to talk about.
What places, people, toys, activities are special for your child? 
What might your child have strong opinions about (foods they like and dislike, bedtime, the doctor)? 
What does your child have a lot of hands-on experience doing (playing with babydolls, building with Legos, gardening with a family member)? 
Keep the Conversation Going

To keep a conversation going, try using these phrases:
I wonder…
What do you notice…
Tell me more about that…
What else do you want me to know about that...
Some Good Times & Places to Start Conversations

Here are some places and parts of the day that are great for starting conversations with your child!
Grocery store:  "These two cereal boxes are so colorful! Tell me about them. What do you see that's the same on both of them? What's different?"
On a bus, train,or  car ride: "Let's pretend we could go anywhere on our bus. Where should we go? Why?"
While taking a walk: "Let's experiment with our walking! How can you change the way you're walking to be faster (slower, funnier, bouncier)? How does it feel?"
At the park: "What do you think would make the park even more fun? Why?"
After school: "What was the funniest (silliest, saddest, hardest) thing that happened today?"
Mealtime: "Tell me about what you see on these big tortillas. I wonder what changes we will see after we take them out of the oven. What do you notice?"
Any quiet moment: "What do you love the most about grandma (or some other special person)? Why? What could we do to show Grandma how much we love her?"
Above all, be a good listener

In any conversation with your child, what matters most is to show that you care about your child's ideas and opinions.
Make eye contact.
Don't interrupt. If you ask a question, be sure to give enough time for your child to process what you are saying and come up with the right words to answer.
Be patient.
Smile, nod your head, and show with your body language that you are interested.
Encourage answering the question in whatever way your child prefers. Instead of correcting a response, add descriptive words and a longer explanation to extend what your child is saying.
Enjoy your time together!
---
For more ideas, see our Resources for Families in our book, Big Questions for Young Minds: Extending Children's Thinking, published by the National Association for the Education of Young Children: NAEYC.org/resources/pubs/books/big-questions-young-minds.
---
Janis Strasser, EdD, is a teacher educator and coordinator of the MEd in Curriculum and Learning Early Childhood concentration at William Paterson University in Wayne, New Jersey. She has worked in the field of early childhood for more than 40 years.
Lisa Mufson Bresson, MEd, is a technical assistance supervisor for Grow NJ Kids, New Jersey's statewide Quality Rating Improvement System for early childhood programs. She previously taught in urban public preschool settings for 13 years.