Making Connections: You Are Courageous and Essential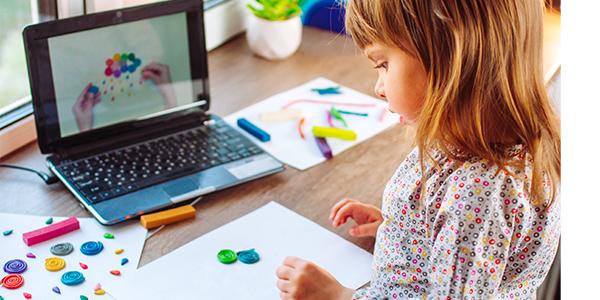 You are here
Rhian Evans Allvin
We are headed into the final month of what was the most devastating year for early childhood education in decades, if not in our entire history. As I write this column, the election has not yet occurred, and we are still fighting for $50 billion from the federal government to buoy child care as it rebuilds after COVID-19. Regardless of the outcome in both cases, we will continue to face a great deal of uncertainty. What will the political climate be like in 2021, and will child care remain a public funding priority? Will this crisis give us the runway we need to make fundamental changes in the structure of the system? Will families access child care differently as a result of this experience? What will have fundamentally changed and what is a momentary diversion in the quest to provide high-quality early childhood education for all children?
These are all questions we will need to navigate together. But there is one thing I know for certain: NAEYC sees you and we hear you. You have our commitment that we will continue to spend every day working to share your stories in the fight for increased public funding. We will continue to host HELLO, the platform for NAEYC's online communities, where you can connect with and learn from each other. We will remain steadfast in our commitment to bring you current and relevant content. We promise to continue to look at all that we do from a lens of equity and inclusion—both internally as a professional association and externally as an agent of change. Indeed, our Advancing Equity in Early Childhood Education position statement demands it of us.
I also want to express my gratitude to each of you. In what has been an incredibly challenging year for NAEYC, I have felt unending admiration and respect for each of you in the field. We have heard so many stories of courage and devastation throughout the year.
These stories include the early childhood educators who quickly pivoted to online learning—working to host class meetings and scavenger hunts on Zoom with 3-year-olds for example—and those who have lost their jobs, living on unemployment until they get the call that their center has reopened. There are the educators who have never left the classroom, taking care of the children of frontline workers (the nurses, grocery store clerks, and custodial crews) who have kept this country going since last March. And we have heard the stories of program directors and owners who have dipped into their own savings and retirement to keep their program going, and those who have closed their doors permanently after decades of service to a community.
Each of you have been put into the position where you have had to make life-altering decisions. We have watched you keep the children and families you serve at the center of your thinking and actions, which is why my colleagues in local and state governments have been working 70-hour weeks to press their governors to respond. They have called for policymakers to relax eligibility requirements and to pay providers for their fixed costs, not on a per-child head count. They have worked the inherent bureaucracy to get federal funding to providers urgently, and have retooled and built data systems in a matter of weeks or months (when it would have typically taken years). We are with you!
Finally, we have heard the stories of the families who are, in so many instances, struggling to make ends meet, to make choices about their child's education (in-person, hybrid, or distance learning), and to figure out how they are going to keep their jobs and care for their children. They are feeling like they are not giving their full attention to any of their many priorities, and they are carrying the weight of this entire burden on their shoulders.
To all of you: You are brave. You are essential. And you are not alone.
Read more about the dedicated members of the NAEYC Governing Board and leadership here.
Rhian Evans Allvin
Rhian Evans Allvin is the chief executive officer of NAEYC. She is responsible for guiding the strategic direction of the organization as well as overseeing daily operations. Before joining NAEYC, Evans Allvin was a guiding force in Arizona's early childhood movement for more than 15 years, including serving as CEO of Arizona's First Things First.