NAEYC Celebrates Early Childhood Education During the 2019 Week of the Young Child™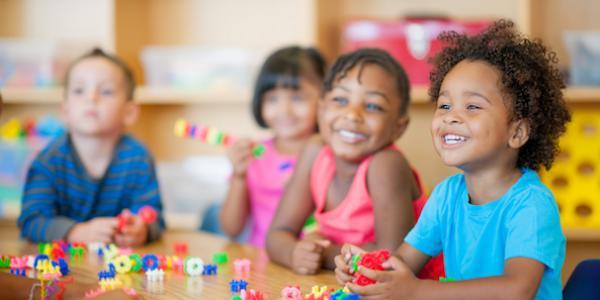 You are here
Home
/
NAEYC Celebrates Early Childhood Education During the 2019 Week of the Young Child™
For Immediate Release:
April 4, 2019
Media Contact:
Jerilyn Gamble
[email protected]
202-350-8841
NAEYC Celebrates Early Childhood Education During the 2019 Week of the Young Child™

The National Association for the Education of Young Children (NAEYC) and millions across the world celebrate the 49th Annual Week of the Young Child™
Washington, D.C.-- The National Association for the Education of Young Children (NAEYC) is honoring young children and those who make a difference in their lives during the 2019 Week of the Young Child™ (April 8-12).
WOYC™ celebrates what quality early learning looks, sounds, feels and even tastes like! In five fun-filled days, this campaign showcases hands-on collaborative activities encouraging movement and healthy lifestyles through music, food, art and more. Each day focuses on a different theme and early learning educators, globally celebrate with their young children, early education programs and communities. Daily themes include:
Music Monday- Through music, children develop math, language, and literacy skills while having fun and being active!
Tasty Tuesday- This fun, food-themed day is about more than just cheese and crackers. Cooking together connects math with literacy skills, science, and more.
Work Together Wednesday- When children build together they explore math and science concepts and develop their social and early literacy skills.
Artsy Thursday- Children develop creativity, social skills and fine motor skills with open-ended art projects where they can make choices, use their imaginations, and create with their hands.
Family Friday- Engaging and celebrating families is at the heart of supporting our youngest learners. NAEYC applauds family members' role as a child's first and most important teacher.
This year, NAEYC is asking everyone to Step It Up (SIU) during WOYC™ as they expand the celebration to include topics like global engagement, advocacy and more. According to NAEYC's CEO, Rhian Evans Allvin, "Week of the Young Child™ reinforces that the early years (birth through age 8) are critical learning years and qualified early childhood professionals accelerate how our children learn, develop, build the skills to get along with others, and succeed in school and life."
Educators will share their celebrations on social media and the public can even track events, activities and WOYC™ proclamations on this digital map. For more information, and to view all of the 2019 celebrations, follow the hashtag, #woyc19 on social media and visit our website.
###
NAEYC is the foremost professional membership organization committed to transforming the lives of young children and delivering on the promise of high-quality early learning. NAEYC represents 60,000 early childhood educators who care for, educate, and work on behalf of young children, birth through age 8.  Learn more about NAEYC at www.NAEYC.org.