2023 Institute Presenter Information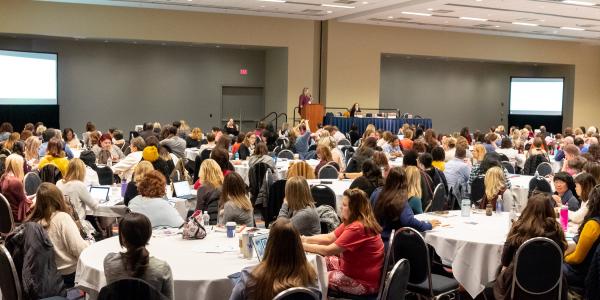 You are here
Presenter registration for the 2023 event has concluded. The following information is provided for your reference. Check back later for information on how to join us for next year's event!
---
Proposal status letters were sent only to the Contact/Primary Presenter. Please contact your Primary Presenter to receive this email. Scheduling details such as session date, time, and meeting room will be made available soon. All sessions will take place at the Oregon Convention Center.  
There are three ways to register as a PRESENTER for the Institute:  

Online—Use the provided registration link to register here. 

The special Presenter Code was included in the acceptance email sent to presenters. Please enter this code online in the Invitation Code field to receive the reduced presenter rate.

Please note: You will need the email address connected to your NAEYC account to log in to register. If new to NAEYC, then you will create a profile when prompted. You will not be asked to enter your Member ID when registering online.   

Fax—If you are paying by credit card or submitting an official purchase order, fax the Presenter Registration form  to (415) 293-4746. Please do not fax your form more than once.  
Mail—Fill out the Presenter Registration form  and send with payment or an official purchase order to:
NAEYC c/o Convention Management Resources  
11251 Rancho Carmel Drive, #502978  
San Diego, CA 92150 
Important: If you are submitting a Purchase Order, please note that it must be received before the rate increases; otherwise, the higher rate will apply. Full payment must be received before you can pick up your registration credentials on site.   
Presenter Registration Fees 

Registration Type 

Early Bird 

(Ends April 21) 

Regular 

(April 22- May 3) 

After May 3 

Presenter Member (Standard/Premium) 

$275 

$305 

$335 

Presenter Entry Level/Nonmember* 

$355 

$385 

$415 
 *Nonmembers receive a complimentary entry level NAEYC membership 
View NAEYC's refund policy, membership information, and additional registration information here. 
Questions about Registration? 
Call Convention Management Resources, Monday through Friday, from 6:00 a.m. to 6:00 p.m., Pacific Time, at 800-450-5185 (US & Canada) or 415-979-2261 (International), or send an email to [email protected].   
NAEYC has blocked guest rooms at several Portland hotels. Reserve your housing here. 
Research Poster Session Information
The poster boards are 8' x 4' with a usable area of 7' x 3' (Horizontal only). Audio-visual equipment will not be provided. Participants must use visual displays to capture the essence of the project or research and are encouraged to provide handouts. 
The final program will include session titles, presenter names and affiliations for 1-hour and 2-hour sessions, plus the Research Poster session. NAEYC may edit session titles and descriptions for grammar and clarity.  
Your session may appear in our Institute marketing and promotional materials. 
Session Cancellations and Presenter Substitutions
If you must cancel your presentation or substitute a presenter, send an e-mail as soon as possible to [email protected] with the reference number and session title. Cancellations and substitutions are accepted from the Primary Presenter only. 
Audio Visual Information for Presenters
NAEYC will provide an LCD projector, projection screen, projection stand, microphone, and computer audio patch. The LCD projector will have a HDMI cable long enough for you to operate your laptop from the podium. 
Attention Apple - Mac users: If you're using your own Mac computer, it's vital that you bring your own adapter to connect your laptop to the LCD projector. Adapters will not be available on-site.  
Any additional AV equipment is at the presenter's expense. This includes: flipcharts, laptops, internet, additional microphones, etc.  
If you have additional AV equipment needs, outside of what NAEYC will provide, please see below for information on how to order: 
AV Equipment: To order additional AV equipment (i.e., laptop, flipchart, etc.), use this order form.
AV Sound and/or Internet: If you need to order additional sound (i.e., supplemental microphones) and/or internet, please visit the Oregon Convention Center's secure ordering portal at: https://www.oregoncc.org/en/Exhibit. 

Select "Order Now" under Order Services 
Find "NAEYC Professional Learning Institute" on the Calendar of Events 
Select "Go To Store" 
Select "Sign Up" and set up your account 
Enter the room number your session will take place in as the "Booth Information" 
Add desired items to your Cart 
Pay securely online 
Note: Power is included with OCC rentals, however; you'll see power automatically added to certain orders. This is so the OCC knows power for each device will be required and needs placing. 
If you have any questions regarding sound or internet at the OCC, below is contact information. 
Phone: 503-731-7918 
Email: [email protected] 
Also, Wi-Fi can be purchased on-site by selecting the "OCC Wi-Fi" network on your device. Then, just follow the instructions on the landing page to place your order. 
Complimentary Wi-Fi will be available in lobby areas and meeting rooms. Please note: The complimentary Wi-Fi is limited to checking email and basic internet browsing. NAEYC encourages presenters to order Wi-Fi if your presentation is web-based or involves video streaming.