Message in a Backpack™ What to Know About Developmental Screening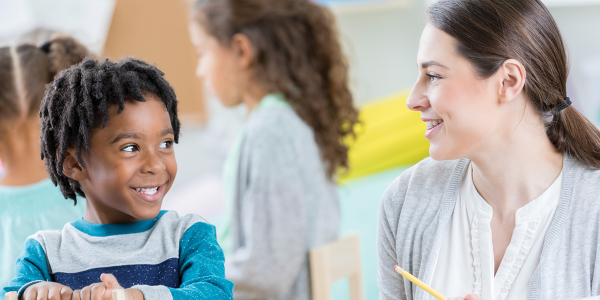 You are here
Marisa Macy
Children grow and develop in similar and unique ways. If you've ever wondered about your child's development, you're not alone. Families notice how children are developing and learning over time, and you may have questions or even concerns along the way. A developmental screening can help you better understand your child's development. Here are some key questions and answers about it.
What Is It?

A developmental screening is a formal way of gauging how a child is developing. It may be a questionnaire or checklist for you to complete, or it may be a list of tasks your child is asked to do. It helps professionals consider and compare what your child can do with a much larger group of children the same age. A developmental screening is a first step: it is used to identify whether further evaluation is needed. Only after further evaluation would a diagnosis be made or specific services arranged.
Who Is Involved?

Many professionals who work with children use developmental screenings, including educators, health-care professionals, and social workers. You play an important role too: you have a unique perspective on your child's learning and development, and your observations are essential for this process.
How Does the Process Begin?

Your child's early learning program may schedule regular screenings. They will share information about the goals, process, and results of a screening with you. You can also raise any questions or concerns you have about your child's development with their teacher or program director. All states are required by law to offer developmental screening services free of charge to families. If not available through your child's program, community-based programs or your child's health-care professionals can help.
Here are some things to consider if you'd like to begin a screening process:
Reflect and write down any questions and concerns you have about your child's development.
Think about what you hope to find out about your child's development.
Jot down recent examples of how your child communicates, interacts with others, plays, and goes through everyday routines and learning experiences.
Consider who can offer support to you and your child as you go through the screening process.
Reflect on how you best take in and use information to make decisions. Do you prefer information to be written down, shared over the phone, sent in a text, or shown in a video?
A developmental screening is a helpful way to get a snapshot of how your child is developing. It is part of a process that will ensure your child receives what they need to grow and learn.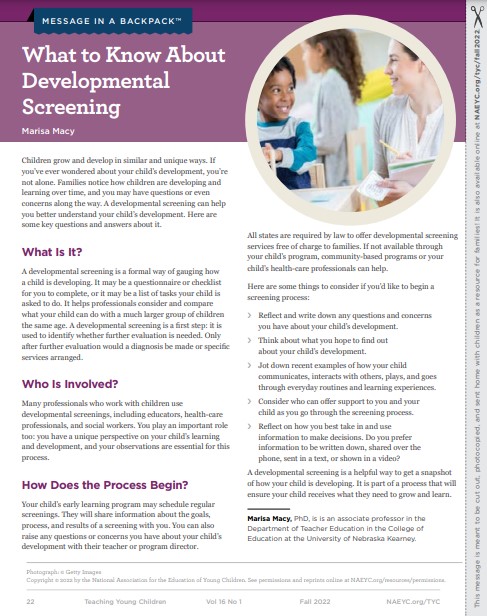 Download the PDF for this Message in a Backpack™ here!
---
Photograph: © Getty Images
Copyright © 2022 by the National Association for the Education of Young Children. See permissions and reprints online at NAEYC.org/resources/permissions.
Marisa Macy
Marisa Macy, PhD, is the Cille and Ron Williams Endowed Community Chair of Early Childhood Education at the University of Nebraska Kearney. She is an associate professor in the Department of Teacher Education in the College of Education.