Now Read This! Steve Light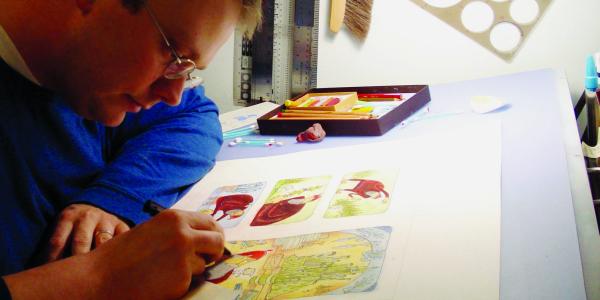 You are here
Many of the ideas for author, illustrator, and teacher Steve Light's books are inspired by the interests and questions of the children in his preschool class. As a teacher, Steve thinks one of the most important things he can do is listen to children, showing them that what they think and say is valuable.
Steve still remembers asking his dad about the steam coming out of manhole covers during a childhood trip to New York City. His dad told him that dragons lived underground, and the steam was their breath coming up to the street. Years later, Have You Seen My Dragon? was born. "Ideas never go bad," Steve says.
Read on for some more great ideas from Steve's books that will inspire the children in your classroom.
---
Black Bird Yellow Sun

2018. Candlewick Press.

This brightly colored book uses the appearance of a black bird to highlight orange leaves, green grass, gray rocks, and much more! Children will love the vivid colors, and they'll enjoy searching for the inchworm that appears, along with the black bird, on every page.
TRY THIS: Read Black Bird Yellow Sun to inspire children to create art using Steve Light's technique. Turning everyday materials into stamps—Styrofoam, yarn tied around cardboard tubes, sponges, to name a few—children dip the objects in tempera paints and print colorful images onto paper. Children can take turns sharing their prints to tell new stories or to improvise on one long, interconnected story. Write down their words, and display their artwork in sequence on a wall.
---
Have You Seen My Dragon?

2014. Candlewick Press.

This book takes place in a crowded city and combines a child's search for a missing dragon with a growing progression of numbers. Each spread leads children to a greater number, counting from one dragon to two hotdogs . . . and finally to 20 lanterns! Pops of bright color in the black-and-white illustrations pinpoint city icons for children to count, and a label shows the corresponding numeral and words.
TRY THIS: As you read the book aloud, talk with children about which objects in the book they would or would not be likely to see in their own neighborhoods (fire hydrants, water towers, buses). Then take a walk through the neighborhood or through the school building. Look for objects that appear in the book or for similar objects—a fire hydrant and a fire extinguisher; a city bus and a school bus. Talk about the differences.
---
Have You Seen My Monster?

2015. Candlewick Press.

Go on a hunt for a missing monster and learn about shapes in the process! Similar to Have You Seen My Dragon?, the author's beautiful, detailed pen-and-ink drawings will delight children as they scan the pages for the hiding monster. Each spread highlights a different shape, encouraging children to identify octagons, ovals, squares, quatrefoils, and many others!
TRY THIS: To challenge children, design your own shape hunt in the classroom! Using various colors of construction paper, cut out the shapes named in the book and hide them in different areas of the classroom. Or have children hunt for shapes that are already in the room—for example, the circles of tabletops, the rhombus-shaped rug, and the rectangular shelves and windows. Once all the shapes have been spotted, divide the children into small groups to talk about shapes' similarities and differences (straight or curved sides, number of sides, number of angles).
---
Swap!

2016. Candlewick Press.

Follow along as the child in this story attempts to make his sad seafaring friend happy! By swapping a button for two teacups, two teacups for three coils of rope, and three coils of rope for more and more, the swaps continue to build until the two friends have an entire ship to sail on! Children will love the different trades the characters make, and they will improve their counting skills as the swapped items grow in number.
TRY THIS:
Have children in small groups swap to gather materials for an art project. One group may need another group's buttons, and the second group may need a third group's pipe cleaners. Glue can be swapped for tape, crayons for markers. Children will have to problem solve and cooperate to get all the creative materials they require to complete their projects.
---
Photographs: Book covers and artwork © Steve Light. Reproduced with permission by the publisher, Candlewick Press; photo courtesy of the author
Joellyn Powers
Joellyn Powers, MFA, is an assistant editor for Young Children and Teaching Young Children.