NAEYC Member Spotlight: Naomi Black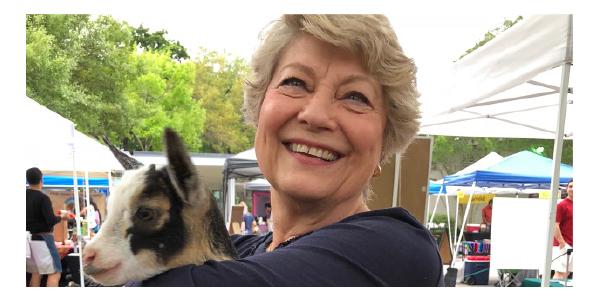 You are here
One of my favorite times to visit a classroom is when music is part of the lesson! The sheer joy of children absorbing sounds, trying to get a sound out of an instrument, or singing along to a song reminds me of how music supports brain development in young children. Music teacher and NAEYC member Naomi Black fosters learning across domains in her classroom every day with passion. We can all imagine the songs children bring home after learning them in the classroom. I still remember when my sons came home singing a new song they had learned in preschool!
Like many of you, changes in my routine have allowed me to spend time doing activities that I had not been able to do, and I have reacquainted myself with the benefits of music. I am grateful for educators like Naomi who bring music into the lives of our youngest learners. Thank you, Naomi, for continuing to make a difference for your students. We are so glad that you are a NAEYC member and that families in Houston continue to benefit from your passion!
—Michelle Kang
Naomi Black has been working with young children throughout her career, and there are many things she's learned along the way about how to be developmentally appropriate in practice and continue to grow and learn as a teacher. She began her teaching career in second- and third-grade classrooms, but eventually started teaching preschool at the suggestion of her mother. As Naomi recalls, "She said I'd love it. I had my doubts, but we know mothers are always right, and it turned out I did love it!" As a preschool teacher, she incorporated her love of music and her background in directing children's choirs into the classroom.
After transitioning to the role of preschool director at The Yellow School at Memorial Drive Presbyterian Church, a position she held for 38 years, Naomi made the decision to retire. "But I wasn't ready to stop teaching entirely," she says. Currently, she is a part-time music teacher for infants through 5-year-olds at Chapelwood School for Young Children at Chapelwood United Methodist Church in Houston, Texas. Naomi's lessons not only focus on music (including introductions to rhythm instruments, sing-alongs, music games, and dancing); her lessons regularly integrate other domains too. As Naomi notes, "Music is a wonderful way for children to develop social and emotional skills (including self-discipline), memory skills, vocabulary, math skills, balance and coordination, creativity, and so much more!"
For example, during rodeo season, the students sing a song to the tune of "Bingo," featuring the lyrics "There is a state that's big and great and Texas is its name." Naomi utilizes the song in lots of ways to incorporate different kinds of lessons. Using a map, she helps her students locate Texas, and they have discussions about the difference between states, countries, cities, and towns. She has the letters that spell out Texas posted on her classroom wall to help the children recognize letters and letter sounds. Naomi also plays a game with children during which she takes down one letter from "Texas" at a time and the students clap for each of the blank spaces. The children count how many letters are left each time they sing, and the letters are then put back using ordinal numbers as she asks the children which letter came first, second, and so on. As much as possible, Naomi works with the students' other teachers to incorporate what the children are studying in their other lessons into her music classes, and she shares her songs with the teachers as well.
Given how long she's been working with young children, Naomi recognizes the potential for burnout or for getting into a rut with activities. But Naomi is a life-long learner, and she approaches her teaching with conviction and confidence. She doesn't shy away from learning new and better methods for herself and, when she was a director, fellow teachers. "I'm always interested in the research and looking for new ideas," she says. In addition, Naomi feels strongly about being developmentally appropriate in the classroom. In teaching music, she approaches teaching infants differently than kindergartners, and she knows that incorporating more of the students' interests will help them actively engage in and learn from activities. And, as the teacher, she is inspired and rejuvenated by following her students' suggestions.
As Naomi reflects on her career, she takes joy in how it has unfolded. "My career choice is validated almost every day," she says. "All the hugs, the cooperation, the 'let's do it again!' suggestions, the joy in learning I see every day—all these things let me know I made the right career choice. Plus, I have fun doing it!"
Photo Courtesy of Naomi Black