New Research on Dual Language Learners: Support Children in Learning Both Languages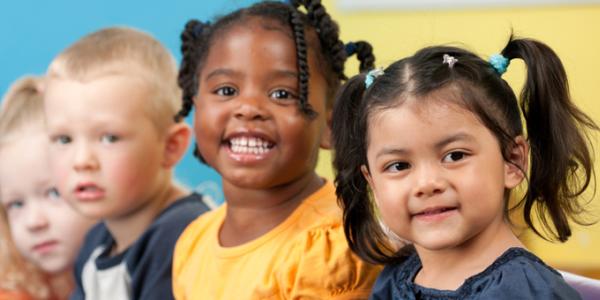 Karen Nemeth
Sometimes our experiences help to make us better educators. But sometimes our beliefs based on those experiences can lead us astray. That is exactly what Dr. Linda Espinosa points out in her important new report, Challenging Common Myths About Young Dual Language Learners: An Update to the Seminal 2008 Report.
In the field of early childhood education, we certainly understand that young children think differently than adults. Their level of cognitive development means they are not just small grownups - they are unique and fascinating learners. Still, many people are subject to believing myths about young dual language learners (DLLs). They may assume children learn language just like they do as adults learning a second language.
Perhaps the most striking conclusion of Dr. Espinosa's report is that bombarding preschool DLLs with more English may actually result in LESS success in learning English. Full immersion in a new language may work for adults, but that's because adults have the cognitive ability to translate internally, because they already have a firm, long standing fluency in their first language.
Preschool DLLs are still in the process of learning their first language. They don't yet know enough in either their home language or in English to form a robust foundation for their future learning, so they need access to what they have learned in both. A preschooler told me recently, "I just don't know all the rules of the world yet!" Dr. Espinosa is suggesting that, until children are old enough to understand all the rules of language in either language, they need support in both languages.
Think of it this way... A person may be fully bilingual, but there will be some vocabularies they know only in one language. Here's an example. A bilingual woman recently introduced me for a presentation I would be giving to a Spanish speaking audience this way: "En este....en este... en este...Workshop!" Although she was fluent in both English and Spanish, having learned Spanish as a child, she had never had to use the Spanish word for workshop. That was a word she only knew in English. This is what happens as young children are developing. They know some things in one language and some things in the other. They need BOTH sets of words as funds of knowledge to learn new concepts and experience the full experience of language development.
Dr. Espinosa also makes it clear that learning in two languages is active, challenging work. Young children are certainly good at it. But, they are not "sponges". They need thoughtful, intentional teaching strategies and classroom environments that are designed specifically to meet their needs. Simply offering a high quality, English-only program won't be sufficient for DLLs. The early education they do receive must be part of a seamless, coordinated system that extends from preschool through at least third grade. This may present many practical challenges since different agencies may be providing the programs at different points in a child's educational career. DLLs make up about 25% of our current population of young children. They are the fastest growing segment of our population. Every school district can benefit from improving the systems in place for these children and collaborating with every agency that serves them. 
Something else to consider: as this growing body of research has built a clear case for the value of growing up bilingual with supports for both languages such as better working memory, enhanced executive function, ability to switch easily from task to task, and to persist in a challenging task – maybe we should be thinking about helping ALL children grow up with the benefits of learning and thinking in more than one language. As Dr. Espinosa states, "All children appear to benefit cognitively, linguistically, culturally, and economically from learning more than one language." (p. 19)
In my book, Basics of Supporting Dual Language Learners: An Introduction for Educators of Children from Birth through Age 8, I've summarized some of the current research and included strategies for putting the research into practice. What does a linguistically and culturally appropriate classroom look like? What do administrators need to know about supervising and supporting staff in a diverse program? We answer questions like these and provide a basic introduction for teachers across the early childhood education age range.
The good news is that the new research summarized by Dr. Espinosa supports many of the developmentally appropriate teaching practices we all appreciate for early childhood education – but simply suggests that we use those strategies in more thoughtful ways that support new language learners. And, as Conor Williams says in his blog post about the Myths report, the advantages of growing up with two languages should be something we want for every child in our country.
---
For more information about teaching young DLLs, look for the DLL tips in every issue of Teaching Young Children or look for in-depth articles in Young Children such as the ones found here: http://www.naeyc.org/yc/resources_03_2013
Karen Nemeth
Karen Nemeth, EdM, is an author, speaker, and consultant on early childhood language development at Language Castle LLC. She is the author of Basics of Supporting Dual Language Learners: An Introduction for Educators of Children From Birth Through Age 8. Karen@languagecastle.com