From Our President. Supporting Transitions: What We Can Learn from Snakes, Sea Lions, and a Flamingo Named Dinky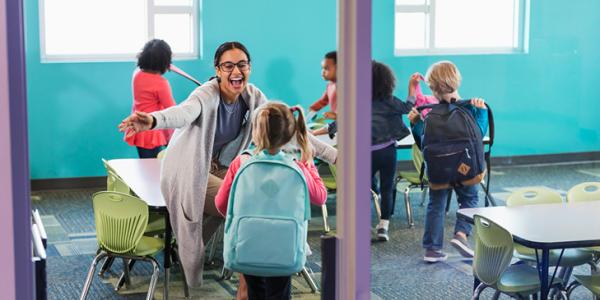 You are here
Amy O'Leary
In the November 2018 issue of Young Children, you met my mom. Did I mention that, in addition to being a facilitator and organizer of volunteer groups when I was growing up, she is a model of lifelong learning?
Mom has always been interested in history, nature, and human development. Animal Planet is one of her favorite networks. Many of our conversations include little-known facts about animals—for example, the habits of sloths (they aren't really lazy!) or the exotic mating rituals of different birds or the clever strategies of hyenas hunting their prey. Last spring, she discovered the TV program The Zoo, a behind-the-scenes look at the Bronx Zoo in New York. I have joined my mom as a fan and faithfully tune in on Sunday nights.
I learn something new every time I watch The Zoo. One episode in the first season—"Moving Day"—really struck a chord. It has three storylines: a staff member learns to feed a python; Franklin and McCabe, two young sea lions, have to be moved to a different zoo in New York City; and a flamingo named Dinky needs surgery.
We have a chance to learn and teach that transitions are an important part of life.
The python part of the episode follows a keeper who is a gorilla expert as she learns to feed a giant African rock python. Bronx Zoo exhibits include species that would naturally be found together in the wild—like gorillas and pythons. This means that staff must learn how to give the best quality care to each of the various animals in the different exhibit areas. The gorilla expert works with another keeper who is an expert with reptiles, first observing him feed the python, then practicing on her own. She shares with her colleague that she is a bit nervous about this new challenge, as it is outside her area of expertise. He reassures her and coaches her, offering feedback and helpful tips as she learns the process. After successfully feeding the python, she says that she has gained confidence and will add snakes to the list of animals she is comfortable working with.
Now, let me share more about the sea lions. The story starts with Clyde, a 790-pound sea lion and the breeding male in the pool. To avoid conflict between the males as Franklin and McCabe grow up, the keepers realize that the younger sea lions must be moved to a different zoo. They develop a detailed, intentional plan that involves gradually introducing crates into the animals' environment, using training and fish to make entering the crates a positive experience, and a few weeks later, trucking the sea lions to their new home at the Queens Zoo.
The keepers work together throughout the process; they talk about how important it is that they remain calm and on the same page, so they can keep everything normal for the transfer. They don't want to add to the sea lions' stress.
When moving day arrives, everything works just as they planned. The keepers successfully get Franklin and McCabe into the truck (it is air conditioned and has a water pump, in case they get stuck in New York City traffic), unload the sea lions at the Queens Zoo, and cheer them on as they swim away. Franklin is a bit hesitant at first. It takes some time, but eventually he adjusts to his new home. The keepers are there every step of the way, providing support, care, and encouragement. One of the keepers says of the sea lions' moving, "They were born here, they were raised here, we taught them their first behaviors; but it's time for them to move on to where they are going to become adults. And that's always bittersweet."
Do these stories sound familiar?

As I watched this episode, I could not help but think about all the transitions that happen for children, families, and educators each September, and the many opportunities we have to provide support for them and for each other. I can remember welcoming a new class of preschool children into my classroom. I worked at a full-year program, so the last Friday in August was the last day of the summer program, and the day after Labor Day the new school year started. There were new names on the cubbies and books about fall in the reading corner.
There was much excitement and some anxiety for everyone as we settled in together. We all had to learn new rules and make new friends, and we educators had to start to assess how we would individualize instruction and support each child's learning and development along the way.
Transitions can be a stressful time—for animals and for people. Watching "Moving Day" reminded me how critical it is that we support and learn from our colleagues, that we be intentional in our planning, that we have patience during the process, and that we use kindness, teamwork, and understanding. There will be bumps along the way, and everything may not go as planned, but we have a chance both to learn and to teach that transitions and change are an important and necessary part of life.
You will have to watch the show yourself to learn more about Dinky, the flamingo. Let me just say that her story involves successful surgery to repair a ruptured tendon. Support for Dinky's recovery includes a custom-made splint to wear and a special sling to allow her to stand while her leg is healing; an iPad playing sounds from the flamingo exhibit so Dinky won't feel alone while she is separated from her flock; and a keeper gently helping Dinky when she first ventures back into the water.
If you watch "Moving Day," you may be struck, as I was, by how zookeepers' and educators' practices sometimes have much in common.
Amy O'Leary
Amy O'Leary serves as President of the NAEYC Governing Board.