Mini-Course: Each & Every Child: Teaching Preschool with an Equity Lens (On Demand)
You are here
Promoting equity in your classroom is within your reach, and this on-demand mini-course will give you some of the tools you need. It focuses on what equity work can look like for teachers working with children ages 3 through 5 on a day-to-day basis in the classroom. You will find strategies and tips for how you can support the learning and development of each and every child in your classroom through intentional play opportunities and guided instructional supports. The full scope of equity work cannot be addressed in a single module or book. Consider this just one resource on your journey to teaching with an equity lens. This module explores the six parts of the book Each and Every Child: Teaching Preschool with an Equity Lens.
This on-demand mini-course includes 4 hours of self-paced learning.
Learning Objectives

 Become aware of your initial internal response in certain situations, reflect on what your response means, and then decide if that initial response is the best choice or requires modifications to represent anti-bias educational goals. This is a key practice in combating implicit bias.
 Develop classroom practices and skills to include all children and families, and view them through an equity lens.
 Gain more interest in anti-bias education and seek out resources to help you on your journey in this endeavor to understand individual children and families to advance equity.
Purchase the Mini-Course!
Each & Every Child: Teaching Preschool with an Equity Lens (On Demand)
Member Cost: $120
Nonmember Cost: $144
Target Audience: Early childhood teaching staff and directors
Clock Hours: 4 hours of training, certificate provided
Access: Learners will have access for 30 days.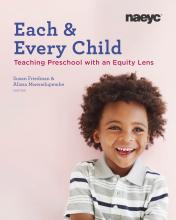 This module is based on NAEYC's publication Each and Every Child: Teaching Preschool with an Equity Lens